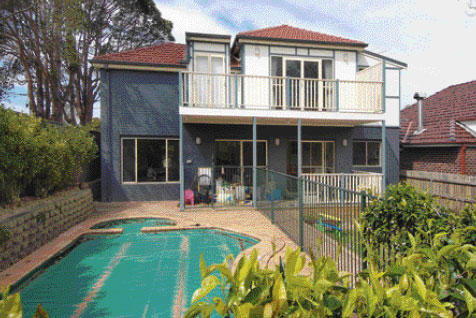 A beautiful old family home receives a new lease on life
Photography Ken Wilson
With a client brief asking for an increase in open-plan living, the designers and builders of this gracious house also needed to ensure they were respectful of the home's heritage and old-world charm. Particular attention was paid to the characteristics that gave the house its beauty, and the features that the owners originally fell in love with — ceiling roses, stained-glass windows, elaborate cornices and the particularly beautiful frontage where the home met the street.
Daniel Clark of DC JM Quality Constructions explained what they found when work began: "The original house was built in the early to mid 1900s and it had the typical renovations done to it over the years." While the owners insisted on maintaining the same feeling throughout, significant structural work was needed in order to open up the house and make it practical for today's style of living. "We removed 60 per cent of the internal walls, 20 per cent of the floors and built them new," explains Daniel. "The reason for this was to maintain one consistent floor level throughout the entire home so it was more comfortable to move around."
One of the unique challenges of this home was the changes that had to be made to the original levels. "We stripped off the main roof and installed a split-level first-floor addition containing the bedrooms," related Daniel. "We then built the new roof around the first floor in order to maintain a minimal streetscape impact." The result is gradually realised as you pass through the house. From the front the home looks the same and it expands into a large two-storey dwelling at the back, which is also significantly wider than the existing house.
The combined kitchen, dining and living space then opens to the yard beyond, creating the desired indoor/outdoor fusion. The new kitchen adopts a more conservative aesthetic to blend in with the original home. Carved cupboard doors and more traditionally shaped handles provide the cosiness, while a white CaesarStone benchtop and simple square tiles support the look. A wide oven and gas cooktop suggest that family dinners are regularly enjoyed and the island bench and stools will no doubt become the most-used zone in the home.
A pastel colour scheme flows throughout the home and the bathrooms pay respect to old-world combinations — black feature tiles puncture the pale-pink floors and a single border of black porcelain tiles with a historic profile completes the theme. Where possible, skylights have been incorporated to ensure that the new space is airy and bathed in natural light. All of this was made possible by the close working relationship between the builders and owners. "We were allowed to work with understanding clients and we built up the trust really early before the build, which made the entire process easy," concludes Daniel. r&e
Project Particulars
This project was designed and built by DC & JM QUALITY CONSTRUCTIONS PTY LTD Tel: 02 9518 0222 Website: www.qualityconstructions.com.au Licence Number: 140826C
Flooring:
Kitchen/dining/living: blackbutt, secret nailed
Bedroom: carpet
Stair: timber and carpet
Outdoor: timber deck to ground floor
Walls:
Internal: solid brick with white set render and painted
Bedroom: timber frame with gyprock lining and painted
Kitchen:
Benchtop: CaesarStone
Splashback: tiles
Cabinetry: polyurethane with pattern
Sanitary fixtures + bathroom fittings:
Mainly Parisi and Hansa fittings
Windows + external doors:
Trend windows