With a mixture of light and dark materials, this new home has a multitude of elements which reflect the owner's creativity.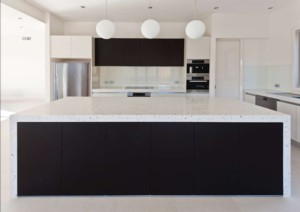 This project involved not only the design of a kitchen, but also four bathrooms, a laundry, pantry and wardrobes for a unified effect in a new home. The client, who owns a high-end shoe shop in South Yarra, wanted something really modern to suit his lifestyle. He requested a design which was not too clinical and introduced a little colour. It had to be quite warm, with a range of browns, and he was very creative with the colours and benchtops he selected. It was an especially large area to work with and the design of the spaces was left up to Urban Kitchens designer Con Moshopoulos.
The kitchen is extra spacious, which especially appealed to Con as it gave him plenty of room to work with. "It looks beautiful and has lots of drawers," Con says. Albedor vinyl-wrap products were selected for the kitchen — Bitter Black makes a striking statement for the overhead cupboards above the cooktop and panels in the island bench, and its dark qualities are offset by the lightcoloured Royal Oyster Gloss on the other cupboards. Three modern pendant lights hang from the ceiling over the island bench, lighting up the workspace, while sleek stainless-steel appliances and glass splashbacks enhance the kitchen's modern appeal. On the island bench the client selected CaesarStone Free Spirit which, according to Con, "was very out there in colour" and the rest of the kitchen's benchtops are a more neutral CaesarStone Nougat. "The kitchen benchtops are creative because two different colours were used for contrast," says Con.
In each of the four fully tiled bathrooms, CaesarStone Ginger was employed on the vanity tops, adding to the warmth and luxury of the spaces as well as contributing a little dash of spice to the neutral palette. The wardrobes in the bedrooms, both walk-in and built-in, are a mix of colours, too. The walk-in wardrobe, with plenty of space for shoes, naturally, is a dark chocolate, while the built-in robes are glossy white. This new home allows the owner to make a statement about his personality, in a decidedly modern and sophisticated way.