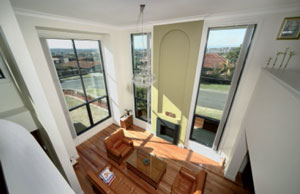 The correct windows can significantly improve the overall comfort, energy efficiency and resale value of your home.
Most homeowners will only purchase windows once or twice in their lifetime. Stegbar reveals how to select the right windows for your home and ensure you don't make a mistake that you have to live with for the life of your home:
Purpose
The basis of good window selection begins with getting a firm idea of what you want to achieve. Consider what it is you want from windows in your home, whether it's to maximise sunlight, ventilation or views. Perhaps it's to improve the safety and security of your home, to provide some privacy or to reduce external noise, such as traffic or neighbours. Increasingly it's to improve energy efficiency in the home and to block out the elements.
Window style
There are six window styles to choose from, each with specific benefits and disadvantages. Some homeowners make the mistake of using the same window style for every window in the home. Revisit what the purpose of the window is in every room; this will help you make your decision.
Material
Window frames can be made from aluminium, timber or a composite of these materials. Each offers different performance advantages when it comes to durability, maintenance and energy efficiency.
• Aluminium is the easiest window to care for and most durable — it will never need to be painted or stained. However, you can't paint the window and change the frame colour and generally it is the lowest performing in terms of energy efficiency.
• Timber windows are beautiful and really match the Australian environment. They do require regular finishing but from an energy efficiency perspective they are far superior to aluminium, as timber does not conduct heat or cold.
• Combine the two and you get a composite window. In Australia this is generally aluminium on the outside and timber on the inside. Here you get the best of both worlds, very little maintenance and the natural charm and energy efficiency of timber.
Your choice of material will ultimately have the most significant impact to the appearance of your home. It's important to take your time as it will pay off in the long run.
Orientation
Choosing appropriate windows and glazing to suit your home's orientation can increase the energy efficiency of a home, making it more comfortable to live. Your home's orientation will guide you in selecting the appropriate style, the placement and window size. Consult a window expert to evaluate your home's orientation and your individual needs and ultimately to recommend the most appropriate windows and glazing systems for your unique situation.
Glazing
A smart choice when it comes to glazing systems can make your home comfortable in all weather conditions, help you feel safe at night, keep the noise levels down or help provide some privacy. Fortunately, there is a large range of glazing options available on the Australian market. Again, it is a scenario where each window in your home may need something a little different in terms of glazing. When it comes to energy efficiency, don't be fooled into believing that the most expensive option on every window will save you more money. This is not the case.
Regulations
Finally, understand that windows are affected by regulations in Australia. There are specific guidelines that you must meet to ensure your home will comply with Australian Standards and the Building Code of Australia. Don't be afraid to seek advice from the experts, as choosing the right windows will have a lifelong impact on your home. Do your research and talk to reputable window suppliers.
STEGBAR WINDOWS AND DOORS Tel: 1800 861 168 Website: www.stegbar.com.au