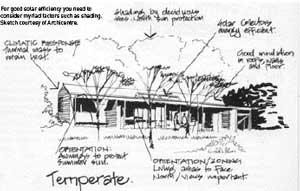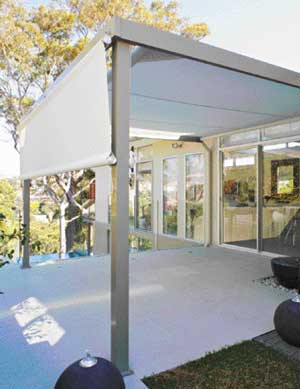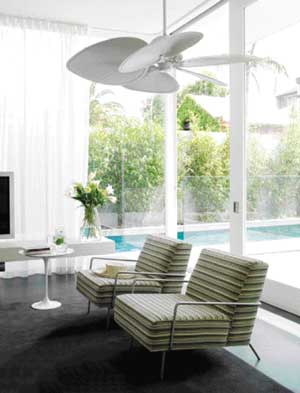 Whether you're planning an extension or renovation, there are many things you can do to make your home more energy efficient. Optimising the use of natural energy sources is the goal and there is a host of simple design changes you can implement that will make your home more comfortable, reduce your energy bills and minimise greenhouse pollution.
Efficient design pays off
An efficiently designed house uses 60 per cent less energy. Think how that would reduce your bills! A 'green' house doesn't have to be a way-out house, nor do you have to despair if your present place is badly designed. There's no reason why your new extension shouldn't be a model of energy efficiency and eco-friendly design, which means implementing good passive solar design techniques, choosing building materials from sustainable sources, and seeking out appliances and fittings that are as energy and water efficient as possible.
When you're planning, take into account the orientation, layout (which includes creating zones that can be sealed off when not in use), insulation levels, windows, landscaping, heating, cooling, ventilation and water conservation and re-use.
Consider your home's aspect
Good design will enable you to capture winter sun, but block out summer heat and UV rays. Maximising sun is important if you live in Australia's cooler southern states. The north side of a house will be the warmest all year, the west side will be colder in winter and hotter in summer, the east side marginally less hot in summer, and the south aspect coolest all year.
If you're not sure which way is north, take a tip from an energy expert and don't go house-hunting without a compass. If the house faces the wrong way, don't step inside the front door, then you can't be tempted.
Features to try and avoid
When you're house-hunting, try to avoid certain features. Be wary of steeply sloping, south-facing blocks; living areas with large east-, west- or south-facing windows; wide verandahs, buildings or other big obstructions on the north. Also keep an eye out for unshaded skylights and glass roofs in living and sleeping areas; ceilings with heights greater than four metres; open stairwells and 'voids' between storeys.
Gaps and cracks in walls, under doors and around windows and large central heating or cooling systems without zone controls are also cause for concern.
North is always best
Areas used most during the day, such as living rooms, are best facing north. The idea is to angle eaves or a verandah so you can still get winter sun. Formal rooms are less important because they're not used as often and it's likely to be at night.
Bedroom windows can face east, as long as you can block out unwanted summer sun; or south, because, it's cooler and darker. Utility areas such as the bathroom and laundry are best sited on the south, or on the hot west side where they can act as a buffer against the heat. And make sure there are doors so you can block off heated and unheated areas.
Calculate the thermal mass
A concrete floor or internal brick wall will slowly absorb winter warmth from direct sun and release it back into the room later. In summer, they will absorb excess heat from the air in the room, and make it more comfortable. A brick or stone fireplace will also help to control a room's temperature.
Plan windows with care
Windows should be carefully planned to keep out summer heat and stop it escaping in winter. Maximise north-facing windows to catch winter sun, limit east-, west- and south-facing windows. Double glazing can reduce winter heat loss.
If you install a high window or a glass roof to admit winter sun, remember that warm air rises, so it could act like an open hole in the ceiling. The heat will escape unless the glass is covered with something such as a roller blind, which could likely come in handy on hot summer days as well. Some skylights will also need shading.
Protection for windows
Windows on the north can be protected externally from summer sun with eaves, awnings or a slatted pergola. Grow a deciduous vine on the pergola and you'll have greenery as well as sun protection.
East- and west-facing windows need vertical shading to control the low-angled morning and afternoon summer sun. Blinds might make a room too dark, so adjustable louvres are a good alternative.
Be careful with verandahs. Those that are wide enough to block afternoon sun from west windows often make rooms cold and dark in winter. Down south, a 1.8m wide verandah should be adequate.
Landscaping to reduce heat
Landscaping plays a role in keeping a house at the right temperature in summer and winter. Consider dense planting for protective winter wind breaks, planting to cool hot summer winds, ground cover to reduce reflecting heat into windows, ponds or pools for evaporative pre-cooling and planting to shade walls as well as windows in summer.
Forgetting the scientific side, you'll feel better if you're surrounded by gentle green lawn and leafy trees, rather than dry earth or hard paving on a blazing hot day.
Curtains mean more comfort
You'll lose most of your heat in winter without curtains or blinds on single-glazed windows. Heavy curtains with a pelmet are best while vertical blinds are the worst at retaining heat. Check around doors and windows for gaps and draughts. One way to do this is to stand near the window with a candle and see how the flame moves.
Ceiling fans certainly help
A room with high ceilings will be warmer on a cool day if you install a ceiling fan. Rather than have all that warm air sifting against the ceiling, the fan will help to disperse it. Conversely, the fan will circulate air and cool the room on hot days. And you won't have the cost or negative environmental impact that comes with some airconditioning systems.
Choose the right appliances
Choose appliances with a high energy-saving rating (go to www.energyrating.gov.au to find out more). Also take care with placement. For example, don't place the fridge next to the oven.
How you use appliances is also part of the energy-wise equation. Don't run clothes washing machines or dishwashers unless you have a full load; switch off appliances such as the microwave, computer and phone charger when you're not using them; switch off heaters when you're out of the house.
Install all insulation properly
Insulation won't work efficiently unless it's properly installed. Make sure it extends to the corners of ceilings, walls and floors or you'll have heat leaks there. Be safe and leave a 90mm gap near hot flues or exhaust fans. And don't put it over or around recessed light fittings. Leave a 25mm gap at the edges. The wrong gaps from careless installation are expensive. If only five per cent of an area is left uninsulated, you could lose up to 50 per cent of the potential benefits.
Insulation makes a difference
Insulation in the roof, floor and walls will help to retain heat in winter and keep it out in summer. There are many kinds of insulation, so pick the one that suits you best. Consider fuel cost, the severity of the climate and whether summer is harsher than winter where you live. All insulation has an 'R' value which is the resistance of the material to the heat passing through it. The higher the number, the better it is.
It's best if external walls are insulated when they're built, because it's difficult and expensive to do it later. Ceilings need the greatest quantities of bulk insulation. It's also wise to install reflective foil insulation directly under the roof to combat the hot summer sun.
Window size is important
It's an advantage if as much of the window area as possible can be opened. The best types are double-hung, casement, sliding and louvre windows. Size is also important. If the area of the opened windows on the windward side of a building is smaller than the area of opened window on the leeward side, then the velocity of air movement inside will increase, enhancing its cooling effect. In most parts of Australia, and particularly in the cooler south, this means windows should be smaller on the south side of the house and bigger on the north.
Lights to become greener
The federal government has announced that incandescent lights will be phased out within the next couple of years, to be replaced by Compact Fluorescent Lights (CFLs), which use less energy and last longer. You can get a jump on things and start replacing incandescent lights with CFLs now. You can get globe, coil or spiral-shaped bulbs and while they cost more upfront, there are long term savings.
The downside at the moment is that it's hard to find dimmable CFLs. Also, some people find the light a bit stark but we're beginning to see new colour tones (all variations on white) coming on to the market.
For the garden, consider LED and solar lights as a supplement to your regular low-volt exterior lighting.
Old houses not so smart
In the real world, many houses, particularly those designed a century or so ago, are not energy smart. However, a new extension can be. You can angle it instead of placing it square against the existing house, incorporate a courtyard or light well to trap the sun and make clever use of glass and skylights.
If you would like to be sure your proposed extension is energy efficient, have your plans checked by an expert. For a small fee, energy experts will double-check them to see you have windows in the right place, efficient cross-ventilation and ensure you're making the most of the aspect.
Watch that fireplace
You could lose a lot of heat through a fireplace. After all, they're designed to extract air. And they do this whether or not a fire is burning. Chimneys can be blocked off with a damper when they're not being used.
One type of damper fits on the top of the chimney and is controlled from inside with a chain and a handle. It will also stop rain and insects from coming into the house. Another type sits just inside the chimney above the hearth where the chimney starts to narrow. These dampers give great control at room level and reduce heat loss up the chimney. Metal firebox inserts come complete with a damper which can be adjusted when they're not being used.
Which heating is best?
Heating accounts for around 40 per cent of a home's energy costs. You will spend more if you buy the wrong system, or one that is too big for your needs. Rather than heat the whole house at the same time, it's more efficient to use a system that heats different zones according to what rooms are being used.
Before you decide on a heater, take into account whether your home has high ceilings, a second storey, and what fuels are the most economical, and available, in your area.
Keeping your water hot
Water heating accounts for about 30 per cent of an average household's total greenhouse gas emissions and about the same proportion of total household energy use. Installing a solar water heater can greatly reduce your energy bills as it will use energy from the sun to heat water at zero cost.
A solar water heater can provide between 50 per cent and 90 per cent of your total hot water requirements, depending on the climate and the model of heater. The upfront costs are higher but there are long-term savings.
Conserving water is vital
Thanks to climate change and ongoing drought conditions, water restrictions are a fact of life for many of us. There are many things you can do to reduce water use such as installing low-flow shower heads, dual-flush toilets and a rainwater tank. And when it's time to replace your clothes washing machine, think about a front-loading model. They use two-thirds less water than a top-loading one.
Also consider a grey water system to recycle water from hand basins, the shower and the final load of the washing machine to be used to flush the toilet or water the garden. But first check your local and state regulations regarding which type of system you should use.
Water-wise products indoors
With a plethora of products claiming to be 'water-wise', how do you know what to choose? For appliances within the home you can look for the Water Efficiency Labelling and Standards (WELS) Scheme label. WELS is based on a six-star rating system – the more stars you see on the label the better. The label also shows a water flow or water consumption figure so you can compare products. WELS covers showers, tap equipment, flow controllers, toilet equipment, clothes washing machines and dishwashers.
Registered products are listed on the website (www.waterrating.gov.au).
Water-wise products outdoors
If you're looking for water-saving products outside the home, the best symbol to look for is the Smart Approved Watermark. It is Australia's only national scheme and is a sister scheme to WELS. More than 100 different products have been awarded the mark and the number is growing. The scheme covers various categories including car cleaning, gardening and watering, grey water, rainwater collection, household plumbing, and pools and spas.
The Smart WaterMark website (www.smartwatermark.info) has the full list of approved products and services along water-saving tips.
Know your local regulations
State and local governments have implemented a variety of guidelines and regulations pertaining to energy and water efficiency which you need to be aware of before embarking on any structural work. In NSW, for example, the Building Sustainability Index (BASIX) sets out a range of criteria that new homes and apartments must meet. This has been extended to cover proposed home alterations and additions worth more than $50,000, and new swimming pools larger than 40,000 litres, which have to have a BASIX certificate before planning approval can be given.
The BASIX website (www.basix.nsw.gov.au) has more information.
Check for government rebates
Many councils and water utilities offer you a rebate when you purchase water efficient products such as washing machines, pool covers and rainwater tanks so give them a call or check their websites to see what incentives might be available.
Some state governments and councils also offer rebates for energy efficient initiatives such as replacing peak electric water heaters with more efficient gas or solar models or installing ceiling insulation. Once again, check and see what you might be entitled to.
Look for green products
Home decorators now have an ever-expanding rage of eco-friendly products at their disposal. You can find wallpaper made using recycled paper and environmentally friendly dyes, plantation grown timber flooring, and furniture featuring CFC-free commercial-grade upholstery foam. You can even get a biodegradable carpet made from 80 per cent recycled nylon.
Other companies offset the greenhouse emissions generated during the manufacturing process by purchasing emission reduction credits.