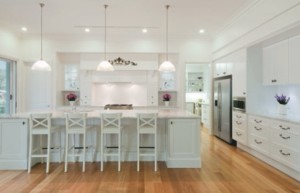 An easy fusion of classical styling and relaxed English charm
Story: Karen Booth
Photos: Patrick Redmond
An entry garden is all about first impressions. Unlike a backyard, which is typically a private space reserved for the family, a front garden is your home's public "face". Because it's on display, not only does it need to be welcoming, it needs to complement the architecture of the house and make a strong design statement.
This Melbourne garden, the creation of Vincent Tassone of Exterior Living Landscapes, has an abundance of street appeal, drawing on traditional design influences to create a foliage-filled, English-style setting into which the period home snugly fits.
The traditional influence can be seen throughout, from the neat border planting around the paths and garden beds to the matching topiaries, but the overall layout is free-flowing, eschewing the strict symmetry seen in a traditional formal garden.
This fusion of formal and casual elements is most evident in the front lawn, which traces a leisurely "figure eight" pattern yet is "contained" by neatly clipped border plants. Reinforcing the more relaxed elements of the design is the random paving. Of South Australian Kathmandu slate, the paving adds that lovely, rustic feel you so often find in English gardens of bygone days.
The simplicity of the planting scheme is integral to the garden's success. English box (Buxus sempervirens) is the main plant used along the borders, acting as a framework that highlights the areas within — not unlike a picture frame. Standard cumquats (Fortunella japonica) line the path, providing height as well as a lovely, fresh burst of colour and fragrance when laden with fruit. Clivias (Clivia miniata) cluster beneath the jacaranda (Jacaranda mimosifolia) tree. Providing a leafy green display year-round — and an explosion of brilliant salmon-coloured blooms from late winter to spring — these hardy plants help to break up the larger areas of paving and add colour when the tree is not in blossom.
Topiaries add the classic touch.