Get the most out of a compact swimming pool.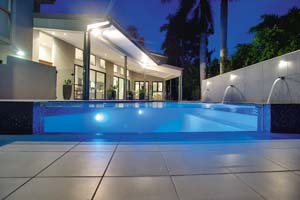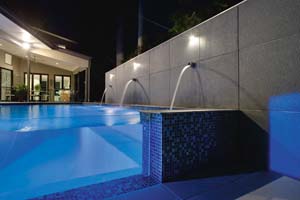 The ubiquitous suburban swimming pool is no longer a simple structure, designed for cooling off on hot days increasingly, residential swimming pools are sophisticated recreational facilities designed as much to be stunningly attractive water features as places to swim, exercise and entertain. But as property prices throughout Australia have increased over time, the size of the average property has gotten smaller so, nowadays, great skill and care is required to integrate a pool into the increasingly limited outdoor space that is the average Australia backyard.
As a result of this, swimming pools are generally more compact in size and more varied in shape to enable integration into the space that is available, including some that previously would not have been considered suitable – narrow side passages, the rooftops of garages or homes as well as steeply sloping areas, small courtyards and even in basements and under houses. To accommodate this trend, swimming pool design has had to become more innovative, technical and precise. Often the work of specialist landscape architects or dedicated swimming pool designers, the following factors, which are specific to each site, need to be taken into account: the existing or proposed residence, topography, geotechnics, stormwater run-off, privacy, access and other requirements, including, for example, the construction budget. The old saying, "If you fail to plan, you plan to fail," certainly applies here because there is, quite literally, no room for mistakes.
Despite all the apparent obstacles to installing a pool in small outdoor space, more often than not, even the owners of the smallest or steepest property, can enjoy a stunning swimming pool. Besides serving as a magnificent water feature and offering most of the same functions as a large pool, swimming pools designed for restricted or challenging spaces have several other benefits. One of the best things about a small pools is it will be much affordable to heat, so you can make use of it year-round. And with a swimming pool located so close to your home, you'll also get to enjoy a pleasant microclimate during the warmer months as a result of the cooling effect the water will have on the air in and around your home. Though they are compact in size, swimming pools designed for restricted or challenging spaces can still be an attractive and valuable asset.