The Mode vanity range from RF Products offers top-quality Australian-manufactured cabinetry, providing the ultimate in quality and contemporary design with an even larger choice of vanity tops from Europe and Australasia.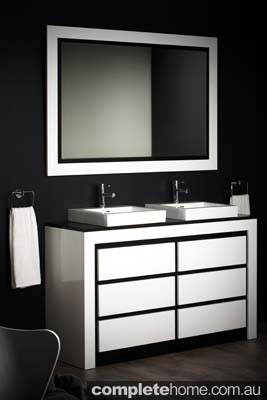 In addition, select from a huge range of premium benchtop options including Caesarstone, RF Stone, Corian, Laminex Freestyle solid surfaces and toughened safety glass. Then customise your vanity by adding your choice of basin from the extensive range in the RF Ceramic Basin catalogue, or select your own basin and RF will manufacture a benchtop to suit.
From the soft-close drawers and doors to the brilliant choice of styles, Mode epitomises luxury in vanities.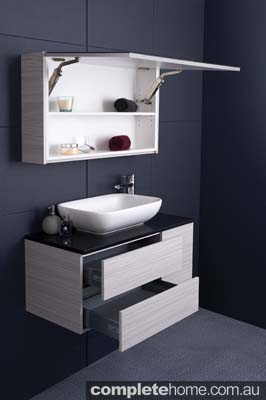 URBAN
The contemporary functionality of the modern Urban is highlighted by the finger-pull design, creating a free-flowing and striking design.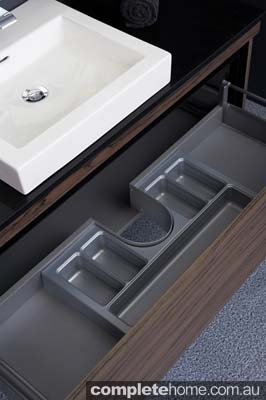 ENVY
The Envy's all-drawer unit includes a drawer organiser as standard and is available in a choice of wood grain finishes or white and black to co-ordinate with any bathroom décor.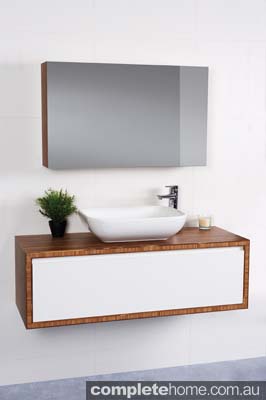 PURE
The bold and minimalist Pure is available in either wall-hung or floor-standing design and with a choice of Freestyle solid surface or bamboo for the benchtop and cabinet surround.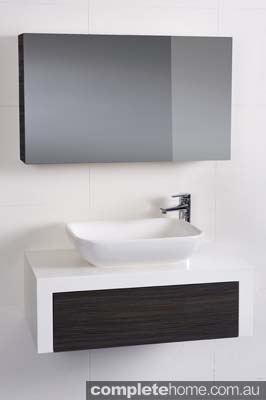 SEDUCE
The seamless cabinet surround contrasted with your choice of drawer-front finish combine in the Seduce to create a visual feast.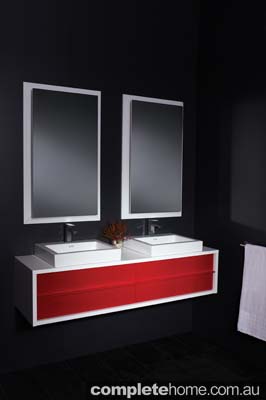 ARTE
The striking elegance of the Arte vanity combines seamlessly with the functionality of two deep drawers to maximise storage. A choice of drawer-front colours allows you to personalise your vanity to reflect your own style and to coordinate with your bathroom decor. In the new Lifestyle range of Australian-made cabinetry, there are four stunning new designs with a choice of options in tops and colours. You could even mix and match the handles to add that personal finishing touch.
METRO
The classic design of the Metro vanity brings a warm and welcoming ambience to any bathroom. It's available in both wall-hung and floor-standing models, with the floor-standing version boasting an exclusive smart drawer option hidden in the base of the vanity for extra storage where space is at a premium.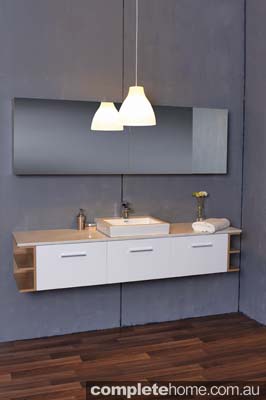 RAIN
The Rain vanity is fresh and distinctive, and offers endless opportunities to mix and match colours and finishes to personalise any bathroom. Complete the look with a choice of stone benchtops and basins.
EVE
The Eve range boasts a modern aesthetic and is available in both wall-hung and floor-standing designs. Both designs feature a generous open space underneath the drawers, providing an additional storage area.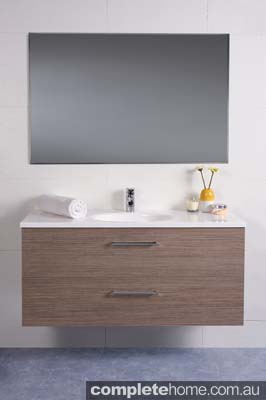 BELLA
Traditional character and eclectic style combine with beauty, quality and craftsmanship in the Bella, available in both floor-standing and wall-hung models. The floor-standing version boasts an exclusive smart drawer option hidden in the base of the vanity for extra storage.
FOR MORE INFORMATION
RF Products 7 Mickle St, Dandenong South Vic
Phone 03 9706 4775
Email rfbath@bigpond.com
Website rfbath.com.au
Originally from Kitchens and Bathrooms Quarterly magazine, Volume 21.1