This beautiful landscape design, by Cool Water Landscapes, displays the perfect harmony of formal and tropical design elements.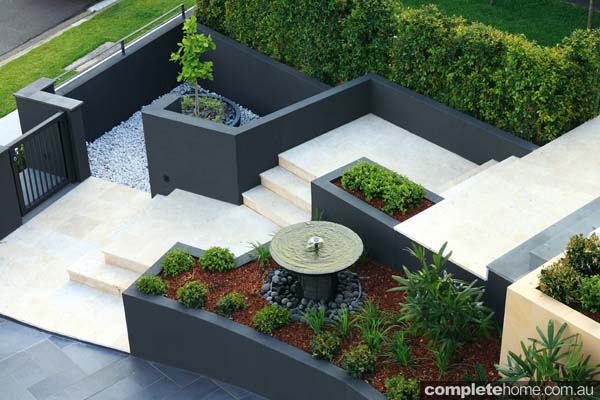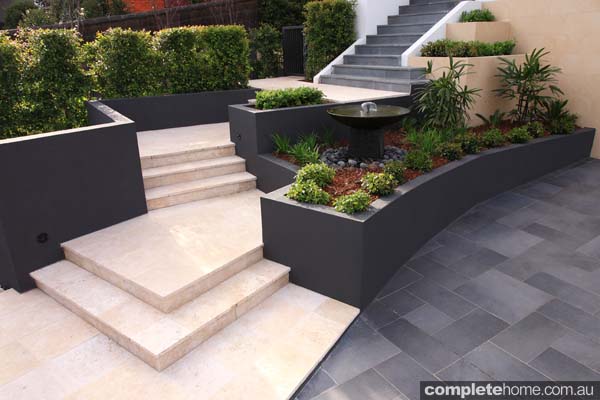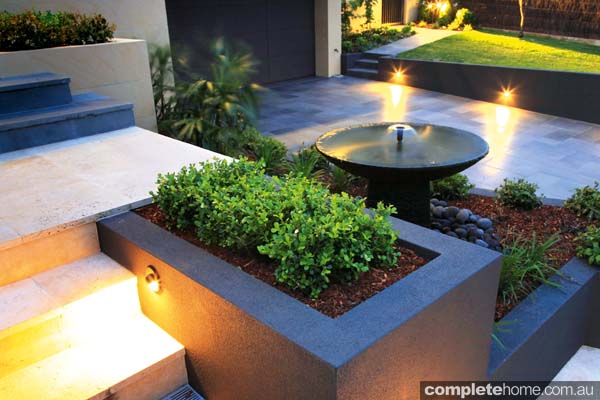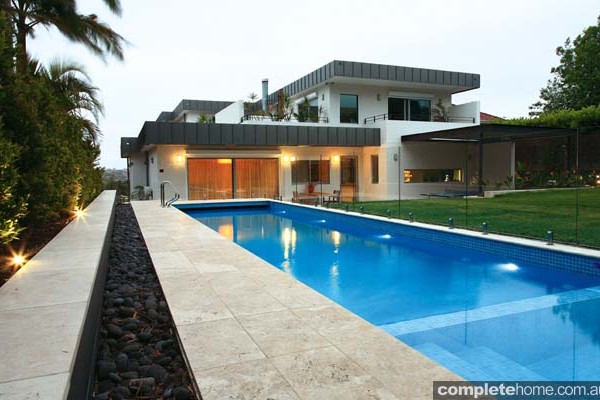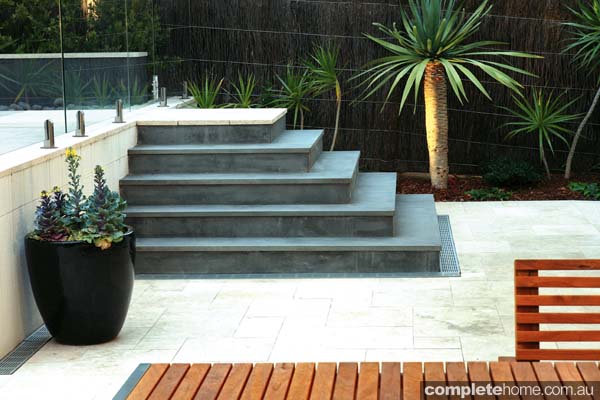 This entrance garden strikes a perfect harmony of formal and tropical. The underlying structure, with its evergreen hedging and reliance on strong geometric lines, contributes a modern formal look to frame the new home while splashes of more relaxed plantings and a water feature set in a bed of small stones contribute splashes of tropical charm.
While the front garden gives the contemporary home street appeal in abundance, the rear garden is private with an entertaining area and a swimming pool. The entertaining space incorporates a built-in barbecue and built-in bench seating to maximise the spot.
For a modern but elegant look, Cool Water Landscapes, the company charged with designing and building this project, used travertine tumbled tiles to pave the entertaining areas and the front entrance. Granite was used for the stairs and the side paths as a contrast. All the walling was block rendered and painted to match the house, while brush fencing adds a tropical touch.
The rear garden needed to be a private space so Cool Water Landscapes planted lilly pillies along the boundaries. A shrub layer of gardenia and hawthorn was used for colour, while feature trees, including Japanese maples, were planted in the lawn area.
The side gardens are more tropical and incorporate black bamboo, rhapis palms, cordylines, bird of paradise, flax, and strappy grasses. The front garden has been framed with cherry blossoms and screened with lilly pillies. There is also a warm-coloured feature garden of dentata, liriope, rhapis palms, and buxus.
From conceptual design to installation, Cool Water Landscapes, under the guiding hand of Michael Burridge, creates inspiring and individualised garden design solutions. This is done by working closely with the clients or with interior designers and builders to ensure every aspect of a landscape is addressed.
Cool Water Landscapes project details:
Landscape design and construction by Cool Water Landscapes Pty Ltd
Suite 4, 287 Mona Vale Road, Terrey Hills, NSW 2084
Phone (02) 9986 1347
Email info@coolwaterlandscapes.com.au
Website www.coolwaterlandscapes.com.au
Photography by Peter Brennan
"Perfect harmony" from Outdoor Design Living magazine Vol.26