Luxurious is an understatement when describing these newly built townhouses by Australian Constructions.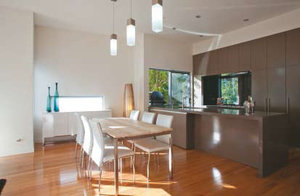 Truly unique in their design, these townhouses not only have their own stamp of difference, they also complement each other in a stroke of creative, design and construction genius. Each townhouse features high ceilings, where spacious entryways lead through to glamorous open-plan kitchens, dining and living rooms. All three homes enjoy a seamless flow from the luxurious comfort of inside space, to the outdoor zone that features beautiful native planned gardens and elevated timber decks with fully integrated barbecues. Each dwelling is complete with three bedrooms, two bathrooms, one powder room, a large kitchen, living and dining area and separate family room. There are also external terraces, patios and a double garage included for an added touch of deluxe convenience.
The design space has a relaxed and inviting feel to it without minimising the luxurious style. Australian Constructions' biggest challenge for this project was to provide a good level of privacy between each townhouse. Strategic and careful screening and orientation of the various spaces was accomplished in order to achieve ultimate comfort and privacy. It was a successful move that highlights the company's dedication to providing the best outcome possible for its clients. Only quality materials are used in Australian Constructions' projects. The spacious kitchens in all three townhouses exude this notion of quality, with the use of CaesarStone benchtops in walnut, and the beautiful cabinetry in semigloss polyurethane Dulux Harold. Blackbutt timber with semi-gloss polyurethane flooring is featured throughout the home, contrasting beautifully with the Dulux Antique White USA painted walls. Even the bathrooms are fitted with the most considered fixtures, a combination of Rogerseller, Grohe and Look accessories, Villeroy + Boch basins, Decina spa baths and Warmtech heated towel rails. It was important to ensure each structure had its own personality.
To create a clear identity for each townhouse and an obvious definition between public and private spaces, Australian Constructions created solid tower elements at each entry. Once inside, these private spaces open to more transparent zones, which in turn flow seamlessly onto private external areas. The strategic design plan allows for aesthetic value, with a great deal of thought given to its environmental and functional aspects. The home has a brilliant ability to breathe, with both natural light and fresh air. The double-height entry foyer with clerestory glazing allows light to penetrate into the rear of the townhouses, as well as circulate airflow throughout both of the building's levels. Louvre windows and frosted glass panels aid this eco-inspired air flow, as well as privacy retention throughout. Windows and door openings have been placed to ensure cross-ventilation throughout the spaces. External blade walls and screens were designed to minimise summer sun penetration while still allowing the perfect amount of sun into the building.
Every element in the townhouses' design and build has been constructed with the utmost thought and consideration. Every aspect, from functional, aesthetic and environmental, has been utilised collectively to ensure three beautiful homes are equipped with comfort, style and unique design.