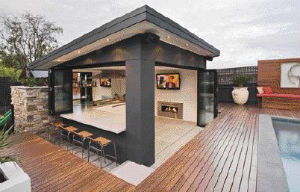 An outdoor kitchen with a fireplace and plasma television … what more could you ask for?
Australians love nothing more than to cook and eat outdoors. They also love to entertain outside. That's why the outdoor room has become a design essential and when you look at the stunning creation showcased here, you can see why.
The design brief for this urban project was to transform the existing site and create an entertainer's paradise complete with an outdoor kitchen and bar, alfresco eating areas and a children's play space. In short, the owners wanted somewhere they could relax, their children could play in the open air and they could entertain friends in style and comfort.
Central to the design is the sunken cabana adjacent to the spacious swimming pool. Featuring glass bifold windows and doors supplied and installed by Smyk windows, it's the new social hub of the garden and provides year-round comfort and enjoyment.
Housed within the cabana is a fully equipped kitchen with barbecue, range hood, glass-door bar fridges, ample storage and bench space, a gas log fire and a stunning 50-inch plasma television. There is also a conveniently located outdoor bathroom so guests need not venture inside the house — a real boon when entertaining or when the kids are using the pool.
A major feature of the landscape is an incredible sculpture and timber screen prominently positioned at the end of the pool. This stunning artwork casts some truly spectacular shadows when illuminated at night. In fact, the entire backyard looks amazing come nightfall thanks to the extensive lighting installed throughout the garden.
This outdoor room and landscape have been designed and constructed with the utmost care and attention to detail by Steve Blencowe and Matt Seymour of Apex Landscapes. Essential to the success of the project is the use of high-quality materials, which includes the sandblasted black granite supplied by Better Exteriors for use around the pool.
Throughout the garden you can see how clever space-maximising ideas by Apex Landscapes have made what is a relatively small backyard look larger and feel more spacious, leaving the owners with an ideal setting in which to relax and unwind.
Established in 2006, Apex Landscapes has rapidly forged a reputation for designing and constructing high quality modern landscapes. With a dedicated team of designers and construction crews, each bringing flair, passion and individuality to every project, Apex Landscapes can transform clients' dreams and expectations into reality.
Project details
Landscape design and construction by Apex Landscapes Pty Ltd 7/51 Cleeland Road, Oakleigh South Vic 3167 Phone (03) 9543 9658 Fax (03) 9543 2038
Mobile 0417 489 081 (Matt), 0423 274 119 (Steve) Email apexlandscapes@gmail.com Website www.apexlandscapes.com.au Stone supplied by Better Exteriors
275-277 Whitehorse Road, Balwyn Vic 3103 Phone (03) 9888 5488 Fax (03) 9888 5988 Email sales@betterexteriors.com.au Windows supplied by Smyk Windows
1952 Malvern Road, Malvern East Vic 3145 Mobile 0409 870 016 Email smykwindows@gmail.com