A proven partnership between builder and designer created this architecturally crafted home, set upon lush rolling lawns with scattered maturing evergreens, in Sydney's northern rural districts.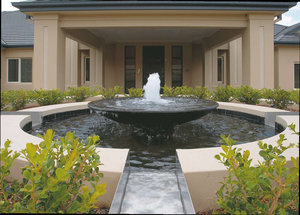 The impressive gates of this property open to a wide driveway encircling a large water feature and symmetrically layered hedges.
Water continuously courses through the fountain's multi-level channels, cascading down and over a slate spillway. This feature faces the porte-cochère entry to the home and from here the driveway continues around the south side of the house to a large guest parking area and five-car garage. Across the porte-cochère and behind the large doorway lies a bright, spacious vestibule with a vaulted ceiling and highlight windows. Inside, the home offers magnificent open living spaces, which are warmed by the use of rich earth and aubergine tones, sumptuous furnishings and soft natural materials. Each luxurious bedroom, including the guest room, has its own large bathroom and walk-in robe.
The parents each have a walk-in robe and the substantial master ensuite places emphasis on floor-to-ceiling finishes of marble and porcelain. Everywhere the eye falls, evidence of striking attention to detail and quality abounds. Oversized doors, wide hallways, artwork alcoves, heated porcelain floors, large cornices, skirting and architraves all confirm the sense of excellence. Generous living areas are located adjacent to the enormous kitchen, which features plenty of counter space finished in soft, warm stone and fitted with stainless-steel European appliances. Adjoining is a separate scullery and pantry with its own fridge, sinks and appliances; the ideal place to prepare a banquet. Other living areas include the sunken dining room, parents' study, children's playroom, piano room, and home theatre fitted with a state-ofthe- art overhead projection system, cinemaquality surround sound and custom widescreen built into a wood-panelled wall. Opulent oversized sofas create a cosy environment for a night at the movies.
The main living areas, including the games room, complete with extensive wet bar and fridge, open through full-height bi-fold doors to the pool and outdoor kitchen, extending the already impressive entertaining areas on sunny days or balmy evenings. The grounds have been landscaped to perfection. Formal island gardens and channelled waterways, set within smooth textured stone patios and pathways, lead to the generously proportioned swimming pool with spillway spanning the far edge. Adjacent is a large heated spa. Stylish glasspanel pool surrounds provide safety without disturbing the scenic outlook. Visually stunning, the entire area is conducive to a comfortable and relaxed lifestyle. At night the home comes alive, washed by waves of light from the interplay of garden spotlights and the dappled reflections from the underwater lights of the pool and watercourses. This individually crafted home by David Denton was created to suit the owners' lifestyle and perfectly matches their needs.