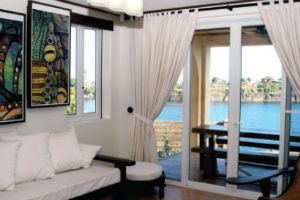 We ask industry experts for their opinions on window and door trends and what today's households are looking for when purchasing these items for their home.
Katrina Bailey, Managing Director, Double Glazed Windows and Doors Pty Ltd
What are households looking for?
Householders are looking for affordable quality and this is one of the reasons for the growth in our business: our low margin and efficient manufacturing processes minimising waste allow us to pass great savings to consumers while competing with importers of cheap Chinese window products. I am always disappointed to watch people buying Chinese building products for their homes while spending so much money on designer clothes. On the other hand, we get asked to do a lot of repair work on imported windows because often quality is not a priority, so hardware breaks or windows are not fitted properly.
What are some of the latest trends in residential windows?
Architects are always looking to give the property an edge and a popular way of doing that, especially with properties that have a large glazing area, is to make a feature of the windows and doors: utilising a variety of shapes such as triangles, pentagons and arches etc. In recent times, the Tilt & Turn window has proved particularly popular among specifiers because it allows the user to open the window in two ways: from the side and from the top.
Southern Star Windows and Canterbury Windows and Doors
Homeowners are blending combinations of timber and aluminium products throughout their homes, according to Southern Star Windows and Canterbury Windows and Doors. Examples are the Southern Star Windows aluminium stacking sliding door and Canterbury Windows and Doors timber bi-fold servery in an alfresco area. Energy efficiency has become a major factor in the choice of windows, with double glazing now a popular choice to maximise insulation, noise reduction and security. More than ever, people are using timber and aluminium windows and doors as solutions to create a lifestyle and improve the liveability and functionality of their homes. In aluminium, the trend is growing towards more robust commercial-grade products, such as the Southern Star Window 300 Series, which allow the use of more glass, providing more light, creating a better vista and giving a contemporary, architect-designed look to the home.
Things to consider when choosing windows and doors
Windows and doors play a significant role in key areas of home construction, alteration and renovation. For example, they have an impact on the design, look and character of a home, its functionality, the lifestyle it offers, energy efficiency and comfort (heating and cooling) and noise penetration. Windows and doors form a considerable investment as part of the overall value of a home. Stacking sliding doors and tri-slide doors are ideal solutions for this purpose when space is short. Bi-folds remain popular and are also available in timber and aluminium. They provide instant and easy solutions to extend the home to the outdoor living spaces or just as quickly provide a shield against the weather when closed while still providing an outdoor feel. Screened options are also now available, adding the extra benefit of insect protection while maintaining the outdoor feel and vista and giving maximum ventilation. With the growing trend towards indoor/ outdoor rooms and the desire for functional and seamless transition from inside to outside living spaces, bi-fold doors, stacking sliding doors and tri-slide doors are becoming popular solutions for opening up living areas. Options now are available for cornerless sliders in timber or aluminium.
When choosing windows, major factor for consideration should be:
 • Appearance of the home both internally and externally.
• The style/era of the home.
• Maintenance and choice of material (aluminium, timber).
• Product treatments (colour, powdercoat/painting, staining).
• Lifestyle and functionality.
• Ventilation and window positioning.
• Energy efficiency (Star Rating).
 • Privacy (day and night).
• Light and vista.
• Space.
JELD-WEN Australia's director of marketing, Bruce Tosello
What are some of the latest trends in residential windows (and doors)? What are households looking for?
Bi-fold and stacking doors
Australians are well known for their love of the outdoor life and the backyard gathering holds an iconic place in most people's psyches. While Aussies still love to come together, nowadays families meet in all sorts of different home environments, from the tradition of yesteryear's large backyard through to courtyard apartments and townhouses with common areas. Whatever the home and the occasion, entertaining is made simple with the addition of bi-fold doors. Their popularity in home design comes down to one thing: they are simply the best way to let the outside into a home. The most sensational feature of bi-fold doors is the ability to double the size of any room by opening onto an adjoining space to create one large, flowing area, allowing you to control the breeze and fill your home with light.
Bi-fold doors create a seamless transition between indoor and outdoor entertaining areas, making entertaining a breeze and providing flexibility within a home's floorplan. With the costs associated with moving home across Australia well documented, many are choosing to remain in the house they have and renovate or knock down and rebuild. Back in the 1970s, homes were generally designed with smaller rooms with lots of doors, but today the trend has reversed to open up these spaces by removing the walls to create an open-plan space. Homeowners are not restricted to having just one wall of bi-fold doors, either.
More recently, the corner bi-fold door has been introduced, allowing homeowners to open up two walls, providing an enormous sense of freedom and open space. Corner bi-fold doors are the ideal solution for homes with large openings onto an outdoor dining or children's play area, maximising the largest amount of open space while at the same time creating a bold statement in the home. Choosing the best material for your bi-fold doors is crucial to not only the look of your home but also the level of upkeep you want. Stegbar's Architectural range of bi-fold doors is available in both cedar and aluminium.
Cedar bi-fold doors exude charm when simply left with their natural finish or, depending on the style of home, homeowners may choose to have the doors pre-primed ready for painting. On the other hand, homeowners with a more contemporary design or those who desire minimal maintenance can opt for aluminium bi-fold doors, which do not need painting and can be powdercoated in your colour of choice. Stegbar also offers a range of cedar stacking doors that open up a home in much the same way as a bi-fold door. The stacking door is a real space saver as it can create a wider opening with two doors able to slide across to stack on a third fixed door. Stegbar stacking doors can be installed along a single wall or corner and are available in a choice of either three- or six-door combinations.
Bi-fold windows with retractable flyscreens
Traditionally, a bi-fold window has been a cut-down version of a bi-fold door — wide sash frames with bulky hinges and hardware. The Stegbar cedar bi-fold window solves these problems with narrower sash frames and dedicated hardware so that, whether they are open or closed, you can still enjoy unobstructed panoramic views. The versatile Stegbar bi-fold window can be fitted to extend out to an outdoor servery from your kitchen, allowing you to create your own stylish entertainment area with direct access to the kitchen, a great option for families who love to entertain.
Fixed windows with large glass panels
Fixed windows with large glass panels can be the ideal solution for any dark and dull area. By maximising the light in a room with a fixed window, you can brighten a room instantly. Not only can you let the light in, the large glass panelling can ensure you take advantage of your favourite views. The fixed window can also act as a stand-alone feature in your home or in a particular room, or it can be used to accentuate a particular characteristic in your home's architecture and draw attention to it.
Lachlan Austin, general manager of marketing Viridian
What are some of the latest trends in residential windows? What are households looking for?
We're seeing particularly strong growth in double glazing sales, especially in Victoria/Tasmania. Pleasingly, many of these are not our base level Insulating Glass Unit (IGU) (also known as double glazing) products, but are in fact higher-performance units featuring Low-Emissivity glass and Argon fill. In terms of the glass's increased insulation performance over a standard IGU, these sorts of units out-perform standard double glazing by 40 per cent. T hese consumers are recognising that if you're going to make the move to double glazing you may as well get the best available! We're also seeing homes really starting to take control of glazing as a tool in managing the trade-off between aspect and energy ratings. Rather than sacrifice expansive window areas with an outlook to bay and city views, owners and architects are opting for higherperformance glass to give them the best of both worlds: uninterrupted aspect without the waste of energy.
For more information contact:
CANTERBURY WINDOWS AND DOORS 1800 104 000  www.canterburywindows.com.au
DOUBLE GLAZED WINDOWS AND DOORS PTY LTD Peachtree Industrial Area Peachtree Road, Penrith NSW 2750 1300 938 209 www.windowfactory.com.au
STEGBAR 1800 681 168  www.stegbar.com.au
VIRIDIAN 1800 810 403  www.viridianglass.com