Country Lane Homes is renowned for its charming and spacious loft homes that combine rustic charm with great flexibility, making them perfectly suited to both suburban and country living.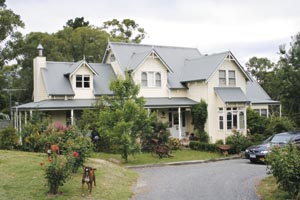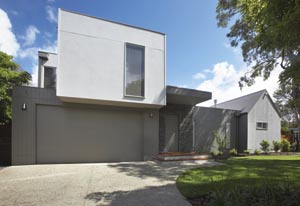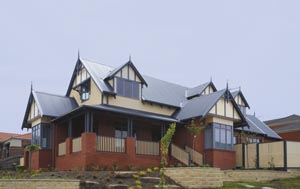 Homes from the company's Provincial Collection provide great aesthetic appeal with their high, steeply pitched roofs, dormer windows and wide verandahs, reflecting simple rural style.
Cathedral ceilings and large full-length windows to three sides of the living area make the most of the natural light and provide a feeling of space. These generous windows also allow wonderful garden views. The large, shaded verandahs keep the interior comfortable during summer and reduce cooling costs.
Country Lane Homes' Blairgowrie and Hampton designs are proving very popular new additions to the company's range and have been designed to blend into any Australian seaside or bush setting. The Blairgowrie features a wonderful combination of vertical grooved cladding and corrugated iron, giving it a unique, contemporary style.
The Hampton is a very versatile design that can be adapted to suit your style of living. Large decks and glass doors bring outdoor living indoors. The combination of horizontal Colorbond and panel cladding makes this a very low-maintenance home suitable for both holiday and executive living.
The Australian Cottage is another popular design from Country Lane Homes' extensive range. The traditional lines of this home are Edwardian in appearance, echoing a time when houses were designed and crafted for character, not price. The home's gracious lines are further enhanced by box bay windows in the main bedroom and large family room. Steep rooflines and flowing verandahs have been capped with barge and ridge rolls and finished with turned finials, making this a truly individual home.
COMPANY PROFILE
With an unlimited range of floorplans, Country Lane Homes specialises in cottages and homesteads with pitched roofs and classic-style dormer windows. Its range also includes a design with a 35-degree roof, which can accommodate a loft for additional living space above the main living area. This innovation has led to the creation of a whole new range of other country cottage designs, from nine to 50 squares in both single- and two-storey cottage configurations, incorporating optional loft accommodation in the low line and pitch.
A key feature of Country Lane Homes is the company's flexibility and, as part of an initial free design service, clients are asked to provide a wish-list outlining their lifestyle and family needs, information about the site, its aspect and the surrounding environment. Designers then take those details and incorporate them into the range of sketches using existing design plans. The aim is to accommodate the client's specific requirements and create the best floorplan for the site.
Once the design has been determined and council approval granted, the company commences construction of the home to either lock-up stage or completion within the Melbourne area or surrounding regions, including the Mornington Peninsula.
Alternatively, Country Lane Homes can build homes to lock-up stage anywhere in Victoria and Tasmania. Furthermore, Country Lane Homes can supply the home in kit form, accompanied by a manual, comprehensive instruction details and full backup service to anywhere in Victoria, New South Wales, South Australia and Tasmania.