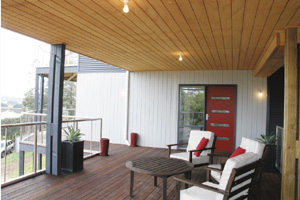 The Pavilion Series
The Pavilion Series is a departure from the more traditional designs available from Kentucky Napier and offers great contemporary appeal at an affordable price. Available in single- and double-storey versions, these custom-designed homes are ideal for both small and large families with spacious open-plan living areas, generous decks and large bedrooms with built-in robes. Pavilion Series homes also feature fully plastered ceilings and come with a choice of upmarket appliances to complement the high-quality craftsmanship.
Awarded the Top Home Award for Manufactured/ Transportable Buildings by the Housing Industry of Australia (HIA) in 2005 and 2006, the Pavilion Series is also energy efficient. Like all Kentucky Napier designs, these transportable homes meet the 5-Star energy standard by utilising sub-floor insulation, double glazing and transom-height windows, which allow expansive views yet retain energy. Orientation of the home is another important consideration.
Company profile
Kentucky Napier's award-winning relocatable homes, schools and commercial buildings are pre-built in a fully equipped construction centre by expert tradesmen. Kentucky Napier has the perfect design for any lifestyle on almost any site, anywhere in Victoria. The homes are of the highest quality and always delivered on time.
Distinctive features of Kentucky Napier
homes include use of natural timbers, cathedral ceilings, exposed beams, high-pitched roofs and sunny alcoves. Portable verandahs and foldable external walls and windows ensure easy transport and no-fuss erection.
Winner of numerous HIA Top Home Awards, Kentucky Napier has hundreds of designs to choose from and many that can be tailored to suit individual requirements. The company also designs, constructs and delivers retirement village units, holiday houses, resorts and retreats, ski lodges, bed-and-breakfast cottages, school classroom units, park accommodation, amenity blocks, offices and church buildings. If you have a special need, Kentucky Napier has the flexibility to provide an affordable solution. Come to the display village and see how it's done, or visit the website.
The award-winning range of Kentucky Napier homes is open for inspection from 10.30am to 4pm seven days a week at 890 Mountain Highway, Bayswater.