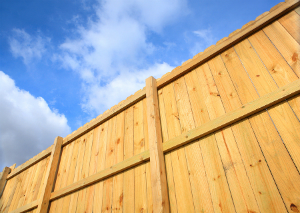 Whether its fencing or screening you're after, the options are virtually endless
Story: Karen Booth
How we delineate the boundaries of our gardens depends on several factors. Is it a front, side or back garden? Is keeping kids in but strangers out a priority? Do you have unsightly views you need screen out, or do you need to prevent your neighbour from looking into your yard? Do you want to create a feeling of enclosure or simply define a boundary while maintaining an open-air feel?
With boundary fencing, consider the benefits of solid versus see-through solutions. A railing, lattice or plant fence will allow light and air to circulate around the garden while delivering a certain degree of privacy. If you need to completely block a view or ensure optimum safety, though, a solid fence might be best. Of course, a high, solid fence can feel claustrophobic, so maybe a combination of both approaches is the way to go. With screening, whether the goal is to create privacy, a sense of sanctuary or mask an ugly view, you have a lot of options, ranging from natural reed or bamboo to custom-designed metal. High or low, screening can also be used to define various garden zones, creating a series of "rooms". A garden is often much more interesting if well-placed dividers mean it can't be taken in at a glance.
Timber tales
Timber fences may sound a traditional option, but there are many modern approaches you can take. Timber slats, for example, give a clean, contemporary look. You have a choice of pre-assembled slats you can install yourself, or you can have them custom-made.
For an older home, a timber picket fence, perhaps with a border of flowering plants, can be an attractive choice and one that will keep kids and pets in. Lap-and-cap timber fencing is an excellent option for a solid boundary fence.
Choosing the right timber is essential. Pre-primed treated pine is a long-lasting choice and it can be stained or painted to any colour you like. Hardwood, though more expensive initially, will last longer than softwood and require less regular painting and treating with preservative.
Lovely lattice
Lattice comes in different configurations and with holes of varying sizes. And, depending on the weave, it will provide a lovely play of light and shade on the garden.
Lattice fences and screens are not great when maximum privacy is needed, but this can be addressed by training climbing plants over it or by planting shrubs behind it.
Lattice panels come in various materials, including treated pine, metal, fibre cement or PVC. They can also be set atop solid walls to add height and privacy.
Metal matters
Solid wrought-iron or cast-iron railings look great outside traditional buildings. They don't afford much privacy, but the look is elegant.
When screening or security is the priority, consider pre-painted, pre-constructed steel panel fencing. This type of fencing can seem a bit overpowering in some situations, so it's often used for boundary or side fences where privacy is an issue.
In recent years, the colour range for steel panel fencing has improved out of bounds, and there are various decorative options you can employ, such as placing a metal lattice infill on top or taking a mix-and-match approach to the colour of posts, rails and panels.
You can also get powder-coated galvanised steel picket fencing if you want a traditional garden fence look without the upkeep.
Brick and cement
Brick and cement fences are popular on more modern homes and, while they can be more costly than timber, they can last a lot longer — and require less maintenance. Just make sure they're built properly. Brick or cement fences must be erected on stable footings, as movement can cause unsightly cracks and structural problems.
Once again, a mix-and-match approach can be adopted. You might, for example, like to opt for brick columns and a brick foundation, but use metal railing as infill.
With both brick and cement fences, you can render and paint them any colour you choose, though once you paint a surface, a certain amount of upkeep will be needed.
 
Natural solutions
If you move into a property surrounded by two or three different types of fencing, you can create a sense of unity by covering them all with a single material, such as cane, brushwood or reed cladding. Natural cladding products can also be used to dress up a drab or ugly old fence when replacing the fence isn't an option.
In the 1970s, brushwood was all the rage. Used less frequently these days, it can still look good. Made from fire-resistant melaleuca, the panels can be used to create freestanding fences or used as cladding.
Of course, let's not forget plants. Climbing plants, such as Chinese star jasmine, wisteria or clematis, can soften the look of a trellis or timber batten screen. A row of bushy evergreen shrubs or tall plants can be used to form a hedge, and don't forget bamboo, which is an effective screening plant. Clumping bamboo placed in planters along a perimeter will create a leafy privacy screen in next to no time and introduce a cooling effect.