Häfele is now the exclusive Australian Distributor of the full range of frameless and semi-frameless pool fence and balustrade fittings manufactured by Frameless Glass Fencing Systems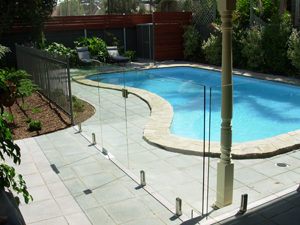 Facts at a glance:
Large range including the revolutionary SPIGGOT™
Made from 2205 Duplex and 316 marine grade stainless steel making them ideal for coastal and poolside environments
Wide range of fixings to suit concrete, timber and steel
Stunning visual appearance
Can be used for interior or exterior applications
The range includes the revolutionary SPIGGOTTM in 2205 Duplex stainless steel. SPIGGOTTM is the brand name for an attractive range of glass clamps, pivots and accessories that are ideal for pool fences and balustrades. Manufactured from 2205 Duplex stainless steel, SPIGGOT™ fittings are not just sturdy, but also extremely durable, making them ideal for the most aggressive coastal and poolside environments.
SPIGGOTSTM can be installed in a wide range of sites and situations with fixings to suit all types of materials including concrete, timber and steel. Their versatility allows them to be used for pool fencing, balustrades, in gardens, up and down stairs, and on sloping sites.
SPIGGOTSTM provide a visual appearance like no other glass fencing system and allow architects to rethink the design of fences and balustrades. Their sleek design adds to the aesthetic in all areas making the best of any view.
To compliment our SPIGGOT™ range the new hand railing and balustrade accents from Häfele don't fall short in offering aesthetics and clean lines. Designed by Lisus, the U-series range is elegant and compact, constructed from simple components keeping installation easy.
Utilizing high quality 316 marine grade stainless steel, the U-Series achieves a contemporary look that enhances the aesthetic of glass balustrade systems. They are designed to adapt to a wide range of interior or exterior applications and are suitable for both commercial and residential developments.