The owners of this property wanted to create an overall entertainment area integrating swimming pool, cabana and garden, and knew that A Total Concept could assist.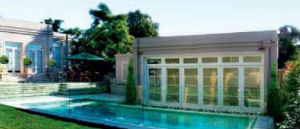 When John Storch of A Total Concept Landscape Architects and Swimming Pool Designers first inspected this site he saw the potential to create something very special. "The owners have a large family and there was no room for an extension to the residence itself, so we looked at creating an elevated alfresco area attached to the rear of the residence which, together with a pool cabana and paved entertaining area, maximises the usable space."
Due to council regulations, additional built structures were unable to be considered, so an original coach house that had fallen into disrepair was rejuvenated and renovated as a pool cabana. The cabana now reflects the contemporary styling of the main residence and holds all the necessary recreation features to service the home as an entertainment room. The self-contained cabana includes kitchen, storage and bathroom facilities, LED flat-screen TV and a large sofa bed, which enables it to be utilised as a guest bedroom when the in-laws visit.
One side of the structure joins a paved entertaining area and incorporates large, blond, natural sandstone paving, while the other side opens onto the chic geometric swimming pool, also designed by A Total Concept. The elegant pool has a deep middle and shallow ends for safety and incorporates wading and underwater seating that can be heated to spa-like temperatures with jets and blowers for relaxing and entertaining. Evaporation is reduced by the inclusion of a swimming pool cover, which also keeps the pool warmer in winter, therefore reducing heating costs. And, for a responsible approach to the use of our resources, solar power is the primary heating method for both the pool and the cabana shower, with gas back-up.
The interior of the swimming pool is tiled with translucent turquoise Italian glass tiles that cause the water to shimmer and sparkle from the sun during daytime and at night by concealed garden lighting, pool lights and lightspill from the living areas. The entertaining area that extends from the rear of the residence runs the full length of the house and incorporates a modern stainless steel barbecue and servery area and cascades to the pool and garden area by wide planter steps lined with Ophiopogon japonicus (Mondo Grass). From this vantage, views of the swimming pool and cabana are retained with frameless glass fencing, which is complemented by up-lit glass wall features on the cabana itself.
The flowing simplicity and visually unified spaces are seamlessly integrated; the swimming pool and cabana meld with the surrounding landscaped gardens to create a total concept.
Project Particulars:
Designed by:
A Total Concept landscape architect and swimming pool designers 
21 Ellalong Road, Cremorne NSW 2090
02 9957 5122
0407 245 201
design@atotalconcept.com.au
www.atotalconcept.com.au
Flooring:
Cabana: Natural-finish vitrified tile
Cabana bathroom: Natural-finish vitrified tile
Walls:
Cabana: Low-sheen premium acrylic in Dulux Antique White USA
Cabana bathroom: White rectified wall tiles Outdoor: Dulux in a custom colour
Windows + external doors:
Purpose, joinery-built, timber-framed doors and windows
Kitchenette:
Benchtop: Laminate
Cabinetry: Two-pack polyurethane, Dulux Antique White USA in satin finish
Lighting:
Cabana: Halogen swivel downlight
Cabana bathroom: Halogen swivel downlight
Outdoor: Hunza lights
Pool lights: Four LED Aqua-Star Aqua-Quip pool lights
Outdoor:
Outdoor paving: Blond gang-sawn from Sydney Sandstone
Pool filtration: 900 micron sand filter and WhisperFlo pumps
Pool sanitation: Fully automatic liquid chlorinator and acid dispenser by Rola-chem
Pool cleaning: Polaris Vac-Sweep pool cleaner with separate pump
Pool interior finish: Italian glass mosaic tiles