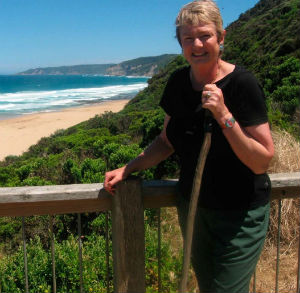 Jane Edmanson has become an iconic figure in the world of gardening, recognised wherever she goes. She presents on ABC's Gardening Australia TV show and has her own program on 3AW radio. She is also a writer for many gardening magazines, such as Coast & Country and Gardening Australia. Jane has also written five books, the best seller being Jane Edmanson's Working Manual for Gardeners, and if that's not enough, she regularly travels overseas with other gardening enthusiasts on amazing gardening tours. Here she chats about all things gardens. 
What is your opinion on organics compared with using chemicals? While working in the nursery industry all those years, it was evident that many people were rushing in to buy extremely harsh chemicals to kill anything that moved. Thank goodness, that time has passed and today both the industry and gardeners have changed to more sensible, sustainable practices. It's great to see so many more people committed to growing their own fruit and vegies in their backyards.
What sort of garden do you have? My garden looks very colourful and fragrant. The tomatoes have gone in and are growing extremely well. With all the rain we've had, things have really shot ahead. The garden is a mix of plants, including natives, roses, perennials, herbs, a wonderful Malus ioensis (ornamental apple) in the front yard and a fantastic crepe myrtle in the back garden. There is something for every season and, though it may look a bit like a jungle at times, that's the way I like it. It has a couple of compost bins and, of course, a worm farm, too.
What are your views on the environment? It's pretty important that people think global and act local. In other words, get involved in their own backyards, growing what they like, while realising that the broader environment is on a very precarious footing. There are so many ecological disasters … the wholesale cutting down of forests and natural vegetation means loss of habitat and, if we're not careful, the loss of a huge number of plant and animal species as well.
Other gardening activities you enjoy? I do enjoy speaking to gardening groups and charities, encouraging everyone to garden, however large or small their plots may be. As well, I am an active supporter of Victoria's Schools' Garden Awards and delighted to be able to visit as many schools as possible to see and hear first-hand our young gardeners being encouraged by teachers and parents to learn about gardening. I am Patron of The Royal Horticultural Society Victoria, Patron of Sustainable Gardening Australia and Ambassador of Cystic Fibrosis Victoria. I have taken annual garden tours to many fabulous gardens throughout the world — it's amazing how many friends you make with the common love of gardens.
Where you can see and hear Jane ABC television Gardening Australia, Saturday 6.30pm and repeated on Sundays at 1pm Radio 3AW's The Big Backyard, Saturday & Sunday 8am–10am and with Denis Walter at 1pm Thursdays Radio Magic 1278, gardening segments throughout the week www.janesgarden.com.au
Jane's gardening tips
Compost, compost, compost — make your own and as much as you can.

Recycle — learn to reuse whatever you can in and around the garden.

Collect your own seeds — it's easy to do and you know exactly what you are growing.

Mulch your garden to help condition the soil and maintain the moisture — even though it's been raining a lot lately, the weather will heat up and dry out again.

Plant flowering and productive plants in your garden — this is the true way of companion planting.