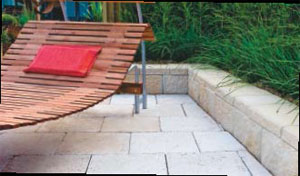 What could you want from your outdoor space? The answer is everything you have indoors, minus the four walls. Follow these great outdoor room ideas to uncover your perfect setting
Deciding what to use as flooring in your outdoor room requires some thought. Fast becoming an oftenused living area of the modern home, the outdoor room needs a durable flooring solution to withstand heavy traffic. And, with so many uses for this outdoor space, as well as different themes and personal preferences, there's an array of options to choose from.
Paving
One of the most popular and natural materials used for paving, stone is ideal for outdoor applications. Not only is it durable but it looks at home in the great outdoors and can be formed into different dimensions with different finishes. Some stone options include travertine, bluestone and sandstone.
As it ages, stone looks even better and its surface wears to become smooth. Over time, the colour softens, providing a timeless aesthetic. No two pieces of stone are the same, so introducing a stone floor ensures your outdoor room has a unique quality.
Stone can be a great way to create a seamless transition between the indoors and outdoors, particularly if you have a similar-coloured flooring inside the home. Match the indoor floor as closely as you can to create an easy flow from one space to another, visibly extending the living space.
Concrete pavers are easy to clean and are durable. They can be made in a variety of sizes, colours and textures and their hard wearing qualities make them a great option for areas prone to a lot of traffic.
Clay can endure heavy loads so is ideal for driveways and walkways. Clay has slip-resistant properties so, if you're looking for a material to install around a wet area such as a pool or spa, this could be the perfect solution.
Eco paving
If you like the look of paving but want to ensure you're doing your bit for the environment, seek out a company that's reusing materials in the production of their pavers, such as Zeostone. These particular pavers are made using products from powerstations and ironmakers as well as concrete waste, producing a low-carbon and sustainable paving product, thanks to its recycled content.
Even searching for an Australian-made product will help the environment, as it requires less energy to transport to its end location than products that are made overseas.
Timber
Timber continues to be a popular choice for those looking for a natural material for their outdoor rooms. When compared with concrete and paving, it can also be cheaper.
Everyone's outdoor room is different and timber can be used for most. If you have a deck-style outdoor room that is exposed to the weather at different times of the day, a sturdy timber product such as hardwood is ideal. Timber floors can also be used for enclosed rooms, creating a warm ambience. "The most popular decking timber currently sold in Australia is merbau, which is a tropical rainforest hardwood timber," says David Elm from Futurewood.
Whatever the theme of your outdoor room, there's bound to be a stain, varnish or lacquer to suit or you can leave it raw to age naturally over time, creating a weathered look that's very appealing in rustic settings. If you live in a bushfire-prone area, opt for a fire-resistant timber such as blackbutt, merbau, spotted gum or silvertop ash.
Rugs and coverings
Perhaps you already have a floor in your outdoor room but it needs something to brighten up the space or create a particular mood. You'll be pleased to know you can accessorise this area much the same as you can your indoor floors.
The trendy way to do this is by adding a rug. There are many outdoor rugs on the market and they come in a plethora of colours, patterns and styles. Some are specifically designed not to scratch the surface underneath and have been made of durable materials to ensure the rug looks its best under high use for many years to come. Look for a rug that's water- and UV-resistant to ensure it's suitable for any outdoor area.
For those who like to keep their living spaces on-trend, Chris Kooijman, director at Exteneo Pty Ltd, the marketing and distribution partner of freek® outdoor carpets in Australia, says, "As with most fashionable items, the colour trend is relevant, which means they will change from time to time. Other than that there may be design and material changes in line with trends such as recyclability of materials etc."
Most of all, ensure you really enjoy the look and feel of your flooring and you'll be happy with it for many years to come.
Wood/plastic composite materials
Wood/plastic composite materials (WPC) are ecofriendly, low-maintenance and rot- and termiteresistant flooring options. Some manufacturers, such as Futurewood, create a concealed fixing option, which allows for a concealed method of fixing. "It's much easier and takes less time to install than the traditional methods of fixing timber decking materials," explains David.
WPC products take on the look of wood but will not rot, splinter or lose colour over time. Ideal for people with the environment in mind, WPCs are made from recycled milk bottles, rice husks and hardwood timbers. A bonus is that it's low-maintenance as it doesn't require oiling, restaining or repainting.