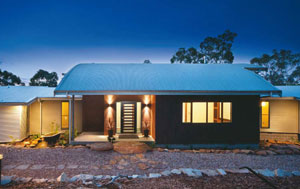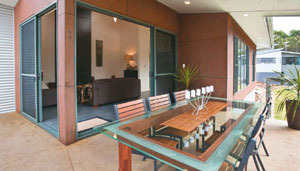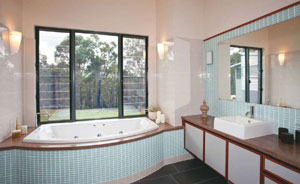 In answer to the common belief that it costs more to be sustainable, this family home is proof that environmentally sensitive building can deliver big savings for many years to come
By Kirsty McKenzie
Photography Darren Edwards and Keith Maxwell

"Our last bill for the house and garage workshop was about $100. Probably $50 of that was for the house. We run our lives as a regular family — all the kids have computers and the usual electronic gadgets."
As far as Joe and Merylese Mercieca are concerned, the only justification they need for eco-friendly living is their utility bills. The Merciecas and their three teenagers recently moved into their spanking new sustainability showcase at Winmalee in the lower Blue Mountains.
The low-slung home that nestles into the surrounding eucalypt forest and bends gently to respond to the contours of the site is a collaboration between Joe, who runs building company Blue Eco Homes, and Mountains architect Ross Young, who also has a long track record in minimising building impact on the environment.
Bedroom wings spread out on either side of a central living, kitchen and dining area and large windows and covered verandahs link the indoors with the outside. There's a spacious entertaining area, media room with big movie screen and a large garden — all the trappings of a luxury family abode minus the exorbitant power and water bills.
The house is surrounded by 90,000 litres of rainwater tanks, 20,000 litres of which are dedicated to fighting bushfires. Although it is connected to mains water, the roof water is proving more than adequate for their needs. Mind you, not a drop is wasted. Shower and laundry water is recycled through a Novagrey system for use in toilet flushing and clothes washing and that water is then treated by a Novaclear system, which eventually feeds onto the garden. Proof of their prudence comes through their letterbox. The Merciecas' last water bill was $31 for the quarter, basically nothing on top of the connection fee.
Renewable energy comes from a 4.2kW photovoltaic grid-connect system and the solar hot water system also heats the underfloor hydronic heating system. Good orientation, passive solar design and plenty of cross ventilation eliminate the need for air-conditioning, and ceiling fans provide all the cooling that's necessary, even during the heat of summer. Once again, although connected to mains power, the house has very little need to use it.
"Our last bill for the house and garage workshop was about $100," Joe says. "Probably $50 of that was for the house. We run our lives as a regular family — all the kids have computers and the usual electronic gadgets. We are probably a bit more conscious than most about not running the clothes dryer more than absolutely necessary and our hall, walk-in robe and pantry lights are on sensors so they switch off automatically when there is no movement, but apart from that we live completely normally."
The windows are also crucial to the thermal performance of the house and these were provided by St Marys-based Evolution Windows. They used Viridian ThermoTech E double glazing, a low-emission glass that allows plenty of natural light and frames the views at the same time as providing good insulation. The louvres are rated for use in air-conditioned spaces and, when closed, allow absolutely no leakage of air in either direction. When opened, they capture and direct breezes as required for cooling.
Other environmentally considerate elements of the house include the use of non-combustible, durable and low-maintenance external materials such as corrugated iron, galvanised steel, recycled timber and rust-painted compressed sheet walls.
A stickler for getting it right, Joe spent weeks perfecting the rust paint treatment, which makes quite a statement on the home's exterior. The paint he chose was actually created by Victorian paint manufacturer Haymes as a paint for sculptors and hobbyists.
"They usually sell it in one-litre tins," Joe says. "So I think they were amazed when I put in an order for 40 litres. But they were very supportive of my mission and even sent a consultant up to iron out a few problems I was having adapting it for such large-scale application."
Famous for never throwing anything out Joe also converted his uncle's old clawfoot bathtub into a water feature near the front of the house. "People told me I was mad before it went in," he says. "But now they say it looks good and it serves the added benefit of cooling the air before it flows through the house."
The Merciecas occasionally open their home as a display model for the business. It has been rated at 7.5 stars, far above the NSW BASIX thermal comfort minimum standard (3.5 stars) and was acknowledged by the Master Builders Association with last year's environmental management award and the Housing Industry Association's national award for housing efficiency.
"Living in an environmentally sensitive way doesn't mean you have to live like a hippie," Joe observes. "You just have to work with the location and make the most of available architectural knowledge. The benefits are mostly lifestyle-related but they also come with a hip-pocket bonus. And I don't think there's anybody out there who wouldn't appreciate a few more dollars in the bank."
For more information visit www.blueecohomes.com.au