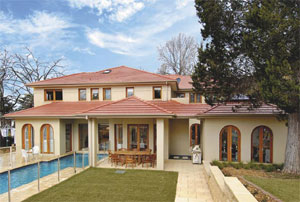 Designer a home in normal circumstances can be a challenge, but when you're designing for someone whose life is dedicated to art, it's even more imperative that the home is state-of-the-art and very grand!
The skills, expertise and cohesion of designer Aspect and builders ensured a grand residential European home with a Tuscany twist was produced, epitomising distinction and excellence in design, project management and construction.
The client had lived in England for many years and decided to make the move back to Australia. From concept to completion, a modern residence with the elegance of a European villa and Tuscany was in mind, one which the client would fall in love with and happily call home. Most of the design process was achieved with designer Michael Sasso of Aspect Design and Construction being in close consultation with its builders, as well as taking into account the clients' opinions while they still lived in England.
The client wanted an open-plan layout incorporating privacy in each zone. The outdoor element was also vital, opening the home to nature, with indoor areas flowing effortlessly to outdoor entertaining spaces. This also reflects the European lifestyle the client was seeking. Close working relationships between the client, the designer and the builder were critical to achieve and exceed expectations.
The kitchen was constructed to be a focal point in the home, with the living areas seamlessly integrating and branching out. Miele appliances and contemporary fittings also feature. A lounge, dining area, family room and meals space are communal areas that family and friends can enjoy.
A three-car garage, cellar, laundry and study are all neatly tucked away for functional purposes. The master bedroom is total luxury and incorporates a retreat, ensuite and dressing area. Three separate bedrooms and two bathrooms finish off the private areas of the home, with a generous amount of room afforded to each.
Of course, as the client is an artist, a studio was high on the list of requests. This was placed in the garden as an escape from the hustle and bustle of the house. Michael designed it to be a tranquil space where inspiration could flow.
The land was actually part of an historical estate and the new residence had to be in keeping with the surroundings. This restricted the external finishes and colours but the overall effect was successful. The Aspect Design and Construction Group has won more than 50 awards and commendations over the 30 years of being in the home building business, and its more recent continues the awardwinning trend with recognition from both the HIA and MBA. With more than 75 years' experience between them, Aspect Design and Construction is a leader in the field due to unparalleled excellence in authentic architectural diversity, setting a benchmark for excellence in luxury custom homes.
It's clear to see how the combination of attention to detail in design and quality construction has created such an incredible home.
ASPECT DESIGN AND CONSTRUCTION 97 Cecil Avenue, Castle Hill NSW 2154 Tel: 0418 460 714 Fax: 02 9899 3467 Website: www.aspecthomes.com.au Photography: Attila Kovacs