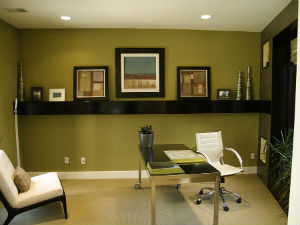 With working from home more popular than ever, check out these tips for creating a green home workplace
Green power
While the battle rages on about coal versus renewable energy, those with a home office (or let's face it, any of us) can speak with our wallets by switching to Green Power. Given that about 50 per cent of household-generated greenhouse emissions come from electricity, this is one of the simplest choices you can make to green up your home office. It'll probably cost you about $100 a quarter, but your contribution goes straight to investment in renewable energy so that, one day, green may be the norm, not the exception. Many companies offer a green power component, but Jackgreen (www.jackgreen.com.au) is Australia's only retailer to offer green power in every product. www.greenpower.gov.au
Lights off on the laptop
While it's hard to imagine a home office sans computer, it's worth realising that your computer choice has emission impacts. According to the Australian Government, a desktop computer will generate more greenhouse gases every year than your laptop (about 200–500kg versus 40kg) while an LCD monitor is only about half as emissions-intensive as a conventional monitor (lowering the screen brightness levels will reduce this even further). Happily for lazy IT helpdesk staffers across the globe (have you tried turning it off and on again?), the fallacy that turning your computer off overnight is more emissions-intensive than leaving it on sleep has been condemned to the urban myth pile. So when your work day ends, power down the PC and switch everything off at the wall.
Reuse and recycle
With no stationery cupboard down the hall, your home office offers myriad opportunities to reuse and recycle. Paper recycling bins are no-brainers. Take things further by making your own notepads from old drafts, or sticking pages back in the printer to print on the other side. With no takeaway containers and ceramic coffee mugs, home office lunch breaks are a greenie's dream. Take a leaf out of car-share firm Go Get's book. It just hired 1000 new workers to deal with staff members' compost (yes, they are worms).
Make haste, not e-waste
E-waste is the latest scourge in the recycling movement: where do old computers, monitors and printers go to die? The ABS estimates Australians ditched 1.6 million items of e-waste into landfill last year. To ensure you're not part of the growing problem, don't upgrade technology willy nilly and, if you must, give your old stuff away locally on freecycle (www. freecycle.org). Sydney's Reverse Garbage co-operative (www. reversegarbage.org.au) is tackling e-waste head-on by collecting up to 1000 IT items a month to refurbish, sell off at rock-bottom prices or give to the needy. On a quiet day in the office, make some waves yourself: contact your local member to ensure e-waste is being dealt with just as admirably in your area.
Layer up, not power up
Working at home means you, not a centralised bureaucracy, are in charge of temperature control. Hot? Open the window. Cold? Put on another layer or have some fun with Lazy Patch. In this outfit made from doona material, Lazy Patch wearers will prove true the rumour that those who work from home never get out of their pajamas. www.lazypatch.com.au