Under-sink cabinets are by far one of the trickiest spaces for creating functional storage. Working around pipes, sinks, powerpoints and filters (just to name a few) makes every cabinet uniquely different. Here are some tips and ideas by Tanya Selever from Tansel Kitchen Systems and Solutions for making the most of all available space.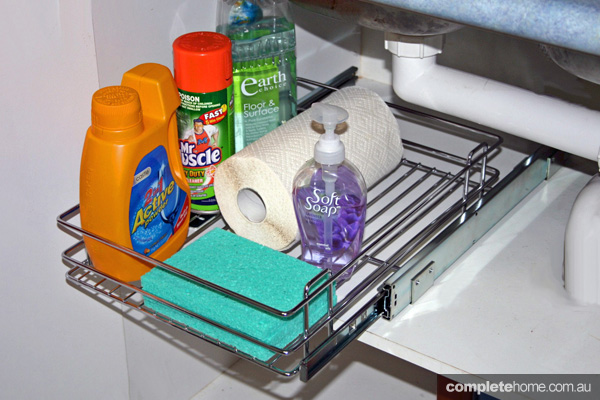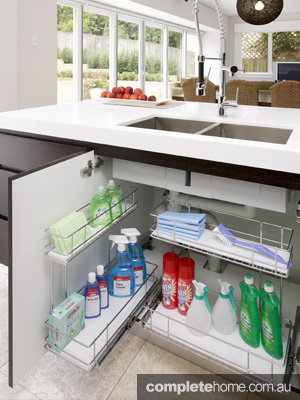 HINGED DOORS
Most under-sink cabinets are hinged doors. It's the most economical option and there is a wide range of storage solutions that can slide out or are door mounted. One of the main considerations is whether to remove the shelf.
With mid-section shelf: If shelf remains, you can place bottom-mount baskets around the plumbing to make the narrow spaces more accessible. Alternatively, you can fit some door-mounted racks and tea towel rails, which is an easy and inexpensive solution.
No shelf: A twin sink that is very deep generally leaves little room for a mid shelf. Depending on the position of the plumbing, you will be left with one section that is full depth, and the remaining shallow, about 300mm. A good solution for this is two slide-out detergent pull-outs; one that runs the full depth and another in front of the plumbing.
The above solutions are suitable for cabinets that are already installed.
DRAWERS
Drawers are a great way to incorporate slide-out bins and maximise organisation. This solution is ideal for new kitchen renovations so talk to your cabinetmaker and plumber early so plumbing and other obstructions are considered before installation.
THREE QUICK TIPS FOR UNDER-SINK STORAGE
* Consider your materials wisely. Stainless steel, plastic and aluminium will give you more longevity. MDF board can swell if regularly exposed to water and damp.
* Easy access. At some point, you'll need access to the plumbing so ensure your pull-out storage can be easily removed.
* Quality and warranty. Check the fine print and warranty details to avoid expensive replacements.
ABOUT TANYA SELEVER
Managing director and product designer at Tansel Stainless Steel Wireware, Tanya's "think-outside-the-square" approach to storage makes her one of our favourite go-to girls. Email your storage questions to tanya@tansel.com.au
FOR MORE INFORMATION
Tansel Kitchen Systems & Solutions
Phone 02 9440 9800
Email info@tansel.com.au
Website tansel.com.au
Originally from Kitchens and Bathrooms Quarterly magazine, Volume 21.2