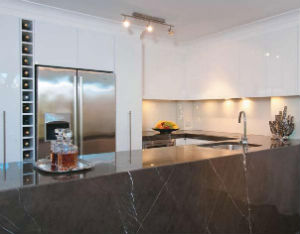 A greater sense of space and flow has been restored to this Sydney harbourside apartment.
By Belinda Crestani 
Photography Sue Murray, Imagine
For Sydney-based interior design company Mandarino Interiors, the project came in the form of a three-bedroom apartment found in Rushcutters Bay. At first sight, the 30-plus-year old building had undergone minimal changes over that time. For a couple looking to buy a high-rise apartment, this third-floor home ticked all the boxes. It had potential and, with the expert help of Mandarino Interiors and a structural engineer, this young family became the happy owners of a spacious 120sqm unit.
While the apartment's dimensions were large on paper, visually it needed to be opened. Understanding there was little storage available and an enclosed layout that offered little room to move, the interior design team focused its attention on knocking down the brick wall that separated the kitchen from the living room. By changing the structure in this way, the living space was transformed into an open-plan style that easily connected each living zone. 
Limestone benchtops are the standout feature in the new kitchen and the "biggest splurge" of the renovation. The cupboards, flooring and tiling were all removed and replaced, transforming this outdated space into a chef's haven.
In the bathroom, the toilet, bath and basin have been reconfigured and repositioned. By integrating the shower with the bath, this space was now seamless in its design capabilities. This design consideration implemented in the kitchen and bathroom allowed the owners more room to move.
As it was, the apartment was particularly dark and gloomy in its appearance. To change the mood of the home, white walls, woodwork, high-gloss white joinery, new finishes and earthy tones were used throughout to generate a space that was fresh and organic.
Situated on the third floor of the apartment building, the balcony that extends from the lounge room looks out to a huge tree. Although it's situated on a busy main road, the tree takes over the whole space and provides privacy to the apartment. While the tree offers a leafy and parklife feel to the home, it also prevents sunlight from entering. By opening the lounge room, using white walls and woodwork and cleverly positioning a mirror on the opposite wall, the light is reflected back. The white walls and grey carpet fuse beautifully with the green of the tree.
For the owners, the interior space needed to be child-friendly. A dark-toned carpet was chosen for its bold appearance and practicality. Venetian blinds line all north-facing walls to allow sunlight in while reducing heat.
By being creative with the space, Mandarino Interiors renewed a fresh and open flow to this apartment, giving the owners more room to move.
This project was designed by MANDARINO INTERIORS 11/33 Waratah St, Rushcutters Bay NSW 2011 02 9326 9456 www.mandarinointeriors.com.au
This project was built by TROY BRENNAN 0405 198 664
Walls
Kitchen, dining + living: All paintwork in
Resene White. Low sheen on walls, gloss woodwork. All kitchen polyurethane cabinets in Resene White
Bedroom: Porter's Beetle wallpaper in black
Flooring
Kitchen + outdoor: Tiles supplied by Hardware & General
Dining, living + bedroom: Superior Weave velvet pile carpet in Wagamamma used throughout. Supplied by Raines Carpets, Bellevue Hill
Kitchen
Benchtop: Limestone benchtops in Pietra Grey by Universal Granite
Splashback: Supplied by Aspex Glass
Cabinetry: By Styline Kitchens
Other: Most appliances are Bosch, from Winnings Appliances