A team of international architects collaborated with Australian firms to visualise a new style of urban living.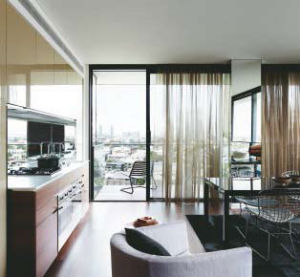 Central Park, as it's now known, is a 5.8-hectare site located in the suburb of Chippendale, on Sydney's Broadway. With so many world-renowned architects linked to the development, there's a recurring theme that surrounds the site. Each stage of the precinct focuses on the role of sustainable design in urban living. French architect Jean Nouvel has designed the iconic mixed-use cluster of two towers known as 'One Central Park'.
Jean Nouvel has collaborated with French artist and botanist Patrick Blanc, integrating more than a dozen vertical gardens across the façades of the two towers. Garden boxes and vertical wires will be incorporated into apartment loggias, wrapping the towers in plant life and extending the adjoining parkland into this "green" building. The eastern tower features a heliostat installation that extends from the upper levels on a monumental cantilever. Its main function is to capture sunlight and redirect it to the retail atrium and gardens below. At night the heliostat's integrated lighting, designed by lighting artist Yann Kersalé, will theatrically and colourfully illuminate the towers. This will be an original and iconic building for the city of Sydney, known for its architectural features and its smart design. The towers are divided into east and west. Interior layouts and finishes of One Central Park East's apartments have been designed by Koichi Takada Architects while the West apartment's interiors have been designed by William Smart of Smart Design Studio. This featured apartment belongs within One Central Park West. In collaboration with Jean Nouvel, these apartments revolve around a central floating pod.
The concept explores "high-speed luxury" as a means of expressing a contemporary mode of living. "High-speed sports cars and yachts are the epitome of luxury and, with their acute attention to detail, have become our reference for this project," says William Smart of Smart Design Studio. It was the sophisticated curves and glossy finishes exclusive to high-end sports cars and motor yachts which influenced the look and feel of the form, details and materials of the pod. Smart's interiors reflect the dynamism of urban life and the finely tuned qualities of bespoke body work. "Boxy forms and conventional materials have been replaced with rounded forms and tactile materials, creating apartments that are both luxurious and unique," he adds. The apartment floorplans vary from a studio apartment, one bedroom and dual key. There is a choice of four colour schemes for each of these West tower apartments ranging from oak, ebony, tangerine and bronze. Within this dual-key apartment that features a bronze colour scheme, there are two separate residences that share a common hallway.
The apartment as a whole comprises two bedrooms and ensuite bathrooms, a generous combined living and dining room with balcony, kitchen, separate kitchenette and laundry. This type of shared floorplan is appealing to those who require flexibility in the way they use their home. With the option to use the separate self-contained apartment for extended family when they come to visit, as a space to sublease, or even to function as a home office, this layout can be easily transformed to suit. The apartment can be opened up into one large functioning space or divided into two separate living zones. The kitchen detailing is a standout feature in the dual-key apartment. It comprises routed pulls, polished aluminium trims, glossy polyurethane and mirrored splashbacks; all these elements embodying the theme of high-speed luxury. The bathrooms within the pod have leatherlike and timber finishes, with the contrasting materials working well. There's an easy connection between the indoor and outdoor spaces. Framing the main living area, glass doors can be opened up to the garden below and the balcony that's found on the other side. The functional rooms of everyday life, the bedroom, bathroom, kitchen, laundry and storage, have been integrated and arranged with compacted efficiency in the dual key. Many environmental considerations were explored inside the home, reflecting developer Frasers Property Australia's preoccupation with 21st century sustainable design.
While the apartment is airconditioned, the system is supplemented with natural air from perimeter glazing. "We've designed these units with great solar access, cross-ventilation and energy-efficient fixtures so that there is little reliance on airconditioning, however it's been incorporated to allow for extreme weather conditions," says William. Abundant opening windows allow for natural air intake and potential cross drafts. Glazing is a key element of this home's design, providing substantial natural light and ventilation filtering in through the interior. Beyond the two towers of One Central Park, Foster + Partners will design the precinct's major commercial campus and Australia's Johnson Pilton Walker is designing a residential complex opposite the heritage Brewery Yard.
Denmark's Jeppe Aagaard Andersen and Australia's Turf Design are collaborating on landscape and parklands, and Tonkin Zulaikha Greer has designed a Melbourne-style city laneway concept for Kensington Street which borders the site. Frasers Property Australia is striving for this project in Sydney's southern CBD to set new standards for sustainable urban development, with every building to achieve a minimum 5-Green Star standard. Its targets include zero net carbon in operation, waste water recycling, and 100 per cent capture and re-use of rainwater falling on rooftops. With a leading focus on sustainable design and compact efficiency, Central Park offers a new concept in urban living.