High-tech entertainment at home is all the rage as the whole family embraces media on the go, in a dedicated cinema or in every room in the house. No wonder home entertainment is booming, Steve Freeth says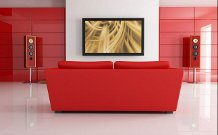 Call it the recession effect if you like, but home entertainment has never looked so good.
Last year, just as the world began to look wobbly, Australians spent around $6 billion on home entertainment, according to the latest Canon Digital Lifestyle Index; a 10 per cent jump on the previous year.
And when you consider just what we bought, the numbers look staggering; three million mp3 and other music players, more than 2.6 million digital cameras, two million games consoles, two million DVD players and recorders, and almost two million flat-screen TVs.
It's a spending spree that's expected to continue. For a start, more than half of Australian homes have yet to upgrade to the must-have flat-screen television, while the number of Blu-ray enabled homes is also predicted to surge over the next four years.
Home technology seems to be showing resilience everywhere else as well. Global spending on consumer electronics will hit the $80 billion mark this year, while in the US, builders are still reporting continued growth in home cinemas and multi-room audio.

Our Digital Cocoon: 
The popularity of home entertainment could, as some people have suggested, be a response to tougher times. Certainly there's growing evidence that consumers no longer see spending on home media as discretionary and that a feel-good factor is now part of the home-entertainment equation.
According to Australian DVD rental specialist, Quickflix, more people are also 'cocooning'. They found that most of the people they asked now own premium LCD or plasma sets and are keen to use them, renting more than five DVDs a month on average.
But it's also clearly about the sheer variety of home entertainment that's at our fingertips these days, and how quickly the costs keep falling for all those digital gadgets we can't seem to live without.
Add to that the flexibility we now have about when, what and how we enjoy media — on the smart phone, on the lap top, in the dedicated cinema, in a media room or outside on the deck — and you have the perfect scenario for a whole new world of leisure.
The Media Matrix:
All that variety means everyone in the family now gets to play. Home cinema may have started out as something of a boys' club, but that's an old story now. Women have emerged as a powerful new force in home technology, increasingly courted by major companies like Panasonic and Sony for their design, technology and media choices. Technology now looks like something we can all agree on. Well, at least according to a new US and Canadian study, which found both sexes brought pretty much the same things when it came to gaming consoles, digital cameras, music players, video camcorders and portable navigation devices.
But it's not just the grown-ups who are having all the fun. Of course, teenagers have often led everyone else in the family down the home technology path (long known as the original 'mediavores') but it now looks like even younger children are catching up.
'Up-ageing' is the new term to describe the fact that kids under 11 years of age now seem to prefer smart phones, internet access, iPods and video game consoles to finding traditional toys like trucks and Barbies under the Christmas tree.
Global market research company, NPD, seems to agree. They found that not only did households with kids have around 11 consumer electronic devices on average, but that a third of kids already have their own personal digital music player or gaming device. This suggests that home technology may be squeezing the generation gap a little closer as the whole family finds common ground in shared options like great home movies, YouTube, streamed music and video games.
The games people play:
In fact, if any home-entertainment trend has earned a 'G' classification, it's got to be gaming. Australians spent nearly $2 billion on video games and consoles in 2008, a jump of 47 per cent on 2007, dwarfing the more modest rises of around 5 per cent that commercial cinemas or movie DVDs both witnessed in the same period.
A large part of that income was derived from family-style video games like Wii Sport or Wii Fit, a sector that Bond University says has seen spectacular growth. They also found that nearly two thirds of Australians now play video games of some sort, fuelled by a growing interest from older people and especially women, who now make up nearly half the gaming population.
And we're doing it at home or on the go, playing them on TVs, games consoles, laptops, smart phones, iPods and other hand-held gadgets. Smart phones in particular have proven increasingly popular due to the simplicity, mobility and lower cost.
And the more we play, the more beneficial it seems to be, well at least according to the social scientists and psychologists. Not only do video games encourage families to spend time together, they say, but there's evidence that they might also be good for kids' reading, sharing and hand-eye coordination, while older people are discovering they can also help with memory and cognitive skills.
The good news is, we can expect them to get even better. That's become blatantly clear this year as the three major players — Nintendo, Microsoft and Sony — engage in a fierce competition to keep customers interested and those spectacular sales figures climbing.
Better motion sensors and screen technology is fast giving way to increased connectivity. Sony's PSP lets users download games, movies and television shows, and is planning music streaming; Microsoft is pushing user-generated material and social networking via Xbox Live; while Nintendo, long the dominant gaming force, has made Wii Fit a much more interactive experience.
The interactive home: 
Nintendo may also be ahead of the curve in other ways. The company's Japanese branch has announced the Wii No Ma Channel (only in Japan at this stage, but expected elsewhere before long) to distribute family-oriented original video programming to its console and DS handheld device.
It's an innovation that neatly sums up the rush by media, electronics and appliance companies to forge new ways to deliver media content 24/7 at home, and in ever more inventive and convenient ways that will appeal to the whole family. One of the holy grails in home entertainment is the move towards online access to the worldwide web of video, movie and TV programs delivered seamlessly to our televisions and home cinemas.
While we may not be there just yet, it doesn't look far off. Media and tech companies like Panasonic and Amazon, Sony and Netflix, Blockbuster and Samsung are quickly stitching up deals to move the trend along, while the big TV makers such as Samsung, Sony, Vizio and LG, to name only a few, are releasing sets with Ethernet connections. 
Many people are already plugged into a range of connected gadgets of course — Apple TV, media servers, games consoles, Tivo, set top boxes and Blu-ray players — a sector that expects to sell 100 million units by 2103, according to research firm Parks Associates.
But get ready for even better, faster family-friendly media connects: 
One that is just getting legs is BD-Live via the Blu-ray format, which allows viewers to interact with others online, source additional material, play games and even insert original material while watching the movie. A number of companies like GE and Sony are quickly adding the feature to their DVD titles, while Walt Disney Studios Home Entertainment expects to release Sleeping Beauty as their first in Australia later this year.
Even bigger news may be the invasion of the Widget, as it quickly moves from our PCs and smart phones to our television sets. Widgets are convenient, online shortcuts on your television screen that allow you to surf the web (or chat via sites like Twitter) without missing one second of program time.
It's all bit closer now that the Yahoo Widget Engine is operational on Samsung's LED TV 7000 and soon-to-be compatible with Sony and Vizio sets. While Yahoo only offers four widgets to date (Flickr, Yahoo News, Weather and Finance) it expects to have 100 by the end of 2009.
Your screen time starts now: 
All that content has got to go somewhere, of course, and luckily we've all been stocking up on screens of all shapes and sizes (fixed and mobile, wired and wireless) for some time. A recent US study found adults are now spending a whopping eight and half hours a day looking at all sorts of screens, from laptops to GPS to phones, and that there is very little difference across age groups.
Despite evidence that we are spending a lot of time online, the television screen is still the predominant source of family entertainment at home — Australians watch over three hours of television a day — but the competition for our attention is hotting up as we multi-task between options.
Of course, the whole family has been doing this with music and video for a while now, shifting content around the home on pc, media server, smart phone and iPod screens for instance, but it looks like books, magazines and newspapers may soon be the next screen frontier.
E-book readers (like Amazon's Kindle and the recently launched Kindle 2) may have had a sluggish start, but are looking decidedly more popular as the range of content grows and the devices themselves get better looking, easier to use and much more functional. With devices beginning to proliferate on the market (Sony Reader, Iliad, Jetbook and of course Apple's iPhone, to name a few) and Google's digital book archive underway, it looks like the day of the networked, electronic text is fast approaching.
Certainly, newspaper publishers are beginning to hope that even larger electronic tablets, like the one proposed by News Corporation, US company Plastic Logic, Amazon's Kindle DX or even Apple, will soon do for the daily news what the iPod did for the music industry.
Something in the air:
Not everything in the digital revolution requires specialised knowledge, subscriptions or complex set-ups, and one of the most exciting for family home entertainment will be digital television and radio.
The imminent arrival of digital television in Australia by 2013 has been hard to miss since a massive public education campaign began earlier this year. Digital television will not only deliver better picture quality, but also more channels, something that broadcasters like the ABC and SBS are already exploiting.
But it could be radio (long overlooked as a crucial part of the home-entertainment package and now getting its own digital close up) that will have a big impact since being switched on in May of this year. Like TV, digital radio (also called digital audio broadcasting plus, or DAB+) offers some major improvements on sound and signal quality as well as more channels, downloadable music, pause and rewind, electronic program guides, and more.
Sure, accessing both digital television or radio does require purchasing new appliances, or at least a digital receiver in the case of television, but here again, radio has some advantages. Not only does a new digital radio cost a lot less than a new TV, but, like the range from Tivoli Hi Fi, they look stylish and can be integrated with iPod docks to provide even greater flexibility.
The family network
Just how important home technology has become to families was recently underlined by some startling European research titled the New Digital Families Report. Families with children, it appears, are much more engaged with technology than other households, not only owning more high-tech gadgets like PCs, games consoles or digital music players, but using technology more to communicate with each other on sites like Facebook, Instagram, tumblr,  and Twitter.
Digital entertainment was also much more important for families, with more time spent experiencing movies, videos, radio and television online. The study identified four distinct family profiles: Leaders, who are "excited by technology"; Resistors, who are "more hesitant"; Followers, who take "a pragmatic approach"; and Drifters, who take their technology leads from the kids.
Someone whose family would undoubtedly qualify as a technology "Leader" is Simon Wehr. With two children under 10 and a job with Clipsal, one of the country's leading home-networking companies, his home has what he calls "full-blown home automation" that acts as something of a home-tech laboratory.
Not only is the home using wired and wireless technologies, but can tick off nearly all the must-have entertainment and networking features, including a touch-screen and remote controls, dedicated home cinema, high-definition TV, web-linked tablet, iPods, laptops and smart phones.
"My children have grown up with technology and are extremely comfortable with the touch screens we have throughout the house and all the remotes," Simon says. "The kids have their own mp3 players and are beginning to develop their own playlists and so the house will need seamless integration so that we can accommodate everyone, even as the children grow older.
"We all love the technology, but my wife and I are also conscious that you have to make sure your kids don't overdose on it," he says.
"In fact, one of our sure-fire ways to get good behaviour from them is to threaten to take away their technology, and that tells you how much families have changed."