Blue Jay Way represents a beautiful client-architect partnership in design.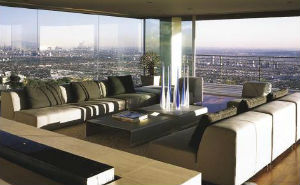 Perched on a steep, nearly 45-degree grade ridgeline of Mulholland Scenic Parkway overlooking the San Fernando Valley, this structure is a four-level, multi-faceted viewing station for the Los Angeles basin below. As per the client's objectives, the structure captures exterior space as living space, and harnesses the panoramic views, accessible from the common areas and courtyards of the property.
Separate living pods allow different activities and interactions to occur simultaneously without mutual disruption. The residence features a crisp concrete plinth base of two levels, housing parking garages and a host of recreational amenities. A screening room, gymnasium, wine cellar and disco lounge (complete with mirrored ball, DJ station and bar!) complete the first-level interior.
Teak panels clad the upper level of the house, floating as if on air above an all-glass main level. Jutting off the master bedroom, a Miesian sitting room steals 180-degree views of the Los Angeles basin below, stretching from the Getty Museum to the skyscrapers of downtown LA. A light, open floorplan emphasises natural light in every room and main program elements are central and low so as not to block views to the outside.
The circulation plan creates space along the perimeter of the home, promoting changing vistas and connection with the outdoors as one moves freely between living, dining, kitchen and private areas. A designer by trade, the client designed many of the furnishings for the residence and selected others to best showcase the home's inviting architecture. 
SPF: Architects
8609 E Washing Boulevarde, Culver City CA 90232
Tel: + 1 310 558 0902
Website: www.spfa.com
Photography: John Edward Linden