How do you use wallpaper as a design element in your powder room? Helen Lennie from Signature Prints explains.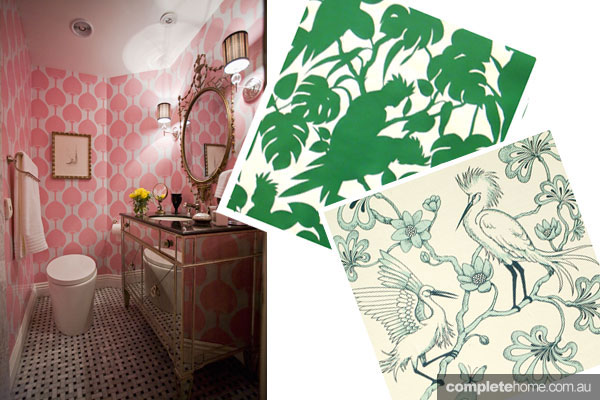 Do your research
Start collecting ideas. I love when a client arrives to our hand print studio with a folder of their favourite combinations of colour, design and style. It makes it so much easier to assist them. No one is a mind reader so try to be as clear as you can when asking for design and wallpaper opinion. Create an "inspiration" board and use resources like Facebook and Pinterest for design and application ideas.
Choose your design
I always start with choosing the design as there are often bespoke services available that allow you to change colour choices. Choose the design then look at substrates and colour combinations.
Colour is key
Colour is what will help make your design choice right for your space. My favourite look right now for powder rooms is Hollywood glamour with a touch of deco. "The Egrets" by Florence Broadhurst in sage and black on cream silk slub paper is a great example of this look. Another trend we are forecasting is the complete opposite look and is all about bringing a little jungle into your home. Our latest collection called "Refresh" features Broadhurst's iconic cockatoo design in Grasshopper Green. I think this look will be huge for the next couple of years.
Feature wall?
I prefer wallpapering the whole space, not just a feature wall, in an area such as a powder room. To me it defines the room — so let it be the star. The trend in our local market is heading this way as people become more confident using wallpaper and pattern. Don't be afraid to layer wallpaper; I'm a fan of placing art on my wallpapered walls.
Live with it, then add accessories
I always enjoy living with wallpaper for a little while before adding accessories. Don't feel you have to do everything straight away.
Visit signatureprints.com.au
From Kitchens & Bathrooms Quarterly magazine Vol. 20 No. 1