We all know we need to do our bit to reduce the human footprint on the environment, and there's no better place to start than in our own homes. Thankfully, suppliers are taking notice and it's becoming easier than ever to Go Green. Here are a few of the latest and greenest products available.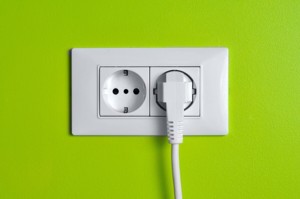 1. What is Eco-Lite?
Renovating and want to install cost-effective and environmentally friendly lighting? Mercator Lighting is committed to producing low–energy and eco-friendly lighting products. The Eco-Lite range of lighting provides an environmentally friendly and cost-effective light solution. Through research and innovation, Mercator Lighting strives to ensure that its Eco-Lite products are stylish, practical and, most importantly, safer for our environment.
For more information visit www.merc.com.au
2. The Green Light
Using energy-saving light globes is one of the easiest things you can do to make your home more environmentally friendly. Jeremy Whitehurst is from OSRAM, a company specialising in energy-saving light globes that distributes its globes to 150 countries and invented the electronic compact fluorescent light bulb in 1985. He gives us the expert lowdown.
What does an energy-saving light globe do?
In a normal light bulb, up to 90 per cent of the energy is lost by heat and only 10 per cent produces light. The Halogen Energy Saver works by containing as much heat as possible around the filament (centre). This allows the filament to run more efficiently and therefore requires less energy to produce this heat. Think of it like insulation.
What are the benefits of using energy-saving globes? Halogen Energy Saver lights last on average twice as long (2000 to 5000 hours) as the incandescent light bulb and use up to 30 per cent less electricity, which amounts to about 36kg of CO2 during the life of the light bulb. Therefore it saves money for the consumer.
What kind of energy-saving globes are available? There are several different types of globes available in the Halogen Energy Saver range, including the classic bulb, candle and reflector (spotlight) shapes. They are available in Bayonet Cap (BC) and Edison Screw (ES) versions, making the new range ideal for virtually every light fitting. All the shapes being offered are based on the most popular wattage used in Australia — the 42W (which is the equivalent light output to a standard 60W light bulb).
Can anyone fit out their home in energy-saving globes or do you need special fittings? The Halogen Energy Saver range is a direct replacement for the incandescent light bulb. It will fit, look the same, dim the same, use the same bases as your current light globes and emit the same warm light appearance. The light bulb looks slightly different inside the globe itself but other than that there is little difference. The result is a light that uses much less energy, which will reduce the impact on the environment and save money at the same time.
Is there anything in particular we should look for when purchasing energy-saving light globes? Are there any accreditations that would be written on packaging to know that it's certified? At the moment, OSRAM is the only company applying this halogen technology to the standard light globe. Currently the option for energy-saving lights has been the self-ballasted compact fluorescents, but they are not 100 per cent direct replacements for incandescents because you cannot dim them and the type of light is visibly different. Consumers should look for the OSRAM packaging with the words "Energy Saver", and "Halogen". This range also has a symbol 60W=42W, which indicates this light bulb only uses 42W to produce the same amount of light as a regular 60W light bulb. Also, on the back of the packaging, there is an energy rating, hours of operation and the dimmable symbol.
What are future trends or developments for energy-saving light globes? This new range is a world-first and provides a direct replacement for the incandescent light, which is currently being phased out. As of October 2009, incandescent light bulbs will not be sold in Australia; therefore, this new range will become the standard light bulb in most Australian homes.
3. The Green Machine
Although we try to save water as much as we can, the washing still has to get done. One of the newest Bosch front-loading washers features an express 15-minute wash so you're not using lots of water for things that only need a quick rinse.
For more information visit www.boschappliances.com.au
4. Underground Water
If you want to install a water tank in your backyard but simply don't have the space, why not go underground? The clever people at GRAF have been working with Carat and have released a durable underground tank (available through Reece). The tank collects water off your roof through a filtration system, then, by electric pump, distributes it where you need it most, whether it's in the laundry, garden or toilet. With the water stored underground, it stays at a cool, constant temperature, which means you don't have to worry about bacteria. For more information visit www.reece.com.au
5. The Green Portal
aToMik Green is a new information portal and online store dedicated to providing people with simple product solutions and advice to help them lead a greener life. aToMik Green plans to offset not only its own carbon emissions, but the emissions of those who use the site. This isn't a hippy, tie-dyed, tree-hugging website. It wants to show people how easy and pain-free it is to become a deeper shade of green — simple ways for an individual, household or business to drop a shoe size or two when it comes to their carbon footprint.
Products vary from water-saving devices for the garden and the house to energy-efficient LED light globes, to timers and metres for electrical equipment. Every little bit counts. Items which can be found on the site include:
• Shower timers — a shorter shower means water and money saved
• Energy-efficient light bulbs — slash your electricity bill and carbon production
• A water-powered clock — yup, no batteries, just add water
• Electricity timers — why have appliances on standby when you're out of the house?
• Energy metres — discover which appliances are using the most energy
• Timers for watering the garden — solar powered, of course
• Solar-powered garden lights — the sun can provide you with light at night too
• A whole lot more including green cleaning products, water-saving devices with more on the way
For more information visit www.atomikgreen.com.au