Getting the rare chance to build from scratch in Sydney's Paddington was an opportunity too good to resist.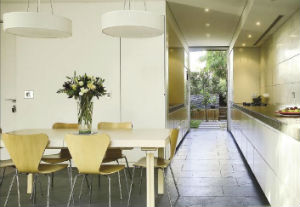 On a small South Paddington (Sydney) block, a petite and poorly built cottage was condemned. As with most building fairytales, however, this story most certainly has a happy ending. The client for this project at 6 Little Selwyn Street was actually the architect himself, John House, who saw (for this now-clear block) a contemporary home of the highest quality. The home also had to complement the Victorian style of the neighbourhood and other contemporary houses in this pocket of Paddington.
Due to limited land size, the design had to make the most of the whole site and take advantage of the coastal Sydney climate that allows indoor/ outdoor living for much of the year. It consists of a kitchen, living area, two bedrooms, study and two-and-a-half bathrooms. Outside are two quaint courtyards; one which opens up to the living area and actually acts as part of the living space and another that opens off the kitchen and is largely ornamental but provides a kitchen garden and contains a spa pool for the hotter months.
The exterior is made of rendered and painted brick, steel and glass; which adds a very bold look to the streetscape while being very private within. The house also has no airconditioning but instead utilises cross ventilation and ceiling fans for cooling. This couples with extensive west-facing louvres to control the sun and ensures a moderate environment all year round. There is also solar hot water heating and a photovoltaic array covering the entire north-facing roof to minimise electricity usage from the grid. In addition, the warm air in the ceiling space is ducted back to the living areas in winter to assist in heating.
The C-Bus system adds a very tech-savvy element and can be used to control light and heat when there is no-one home by dropping blinds and closing curtains. Within the home there is a feeling of embracing the environment and the urban landscape; open areas expose the house to the elements and the materials used pay homage to the houses around it and the Victorian era.
John believes "The challenge is to create living spaces that respond to the 21st century in a 19th-century context" and this is precisely what the home represents, the new merging with the old and both being able to be enjoyed. John also explains how lucky he was being able to build from nothing in Paddington. "Not many people get the chance to start with a clean slate in Paddington, I did." The area has in fact been judged by Sydney City Council to be contributory to the heritage area which is testament to its success. John House, with the help of APD Building, has certainly transformed this humble block into not only a fabulous contemporary home, but also a valuable addition to the historic Sydney landscape. 
John House: Architect
Tel: 02 9360 1817 
Website: www.littleselwyn.com.au
Photography: Neil Fenelon