When the owners of this property, nestled close to Perth's beautiful Canning River, met with designer Glenn Clark of Envious Landscapes, their design brief was unequivocal: "We want to feel that our garden and our home are in harmony with nature, not in conflict with it."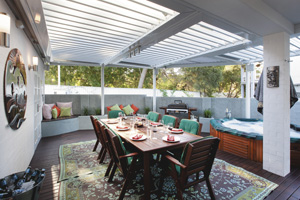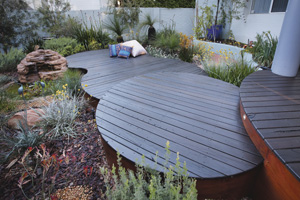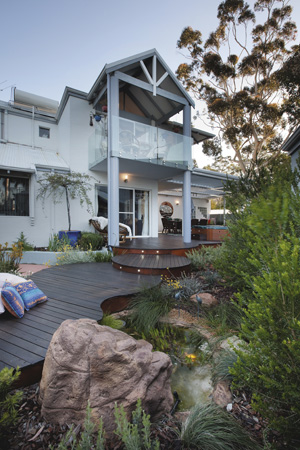 More specifically, their wish list included a spacious, all-weather entertaining area (that still allowed lots of light into the adjoining lower-storey lounge room); a permanent home for their large portable spa; a bright, low-maintenance, self-sustaining, water-wise garden (one that would be "full of life" and include a sunny spot for reading or sun worshiping); a small vegie patch; and a safe, secure place for their two cats to play outside.
While Envious Landscapes has achieved this and more, Glenn says: "The backyard — small, awkwardly shaped, multi-leveled and dominated by the imposing stark-white walls of the neighbouring houses — added an element of complexity to the design process."
The use of stacked circular decks and flowing, curved paths and raised planter beds overcomes the initial awkward shape of the backyard and creates an eye-catching, flowing transition from the main entertaining area into the "sunken" garden.
Year-round protection from the elements in the entertaining area is provided by an adjustable louvred roofing system, while clever lighting and audio-system design allow for flexibility when entertaining.
The garden is ablaze with colour, borne predominantly from long-flowering Western Australian native species (including Anigozanthos 'Big Red' and 'Yellow Gem', Callistemon 'Kings Park Special' and 'Matthew Flinders', Conostylis candicans and several Grevillea and Melaleuca varieties), with a cluster of three rescued grass trees (Xanthorrhoea preissii) providing the perfect centrepiece.
"In this project, harmony with nature is not just skin deep," Glenn explains. "We re-used the existing pavers to construct the raised planters and built-in seating; used recycled jarrah for the decks; installed a 6820-litre rainwater tank connected to a water-wise irrigation system; created an enclosed cat-run (complete with tunnels and climbing posts made from salvaged materials); installed energy-efficient LED and compact fluorescent lighting; used jarrah wood chip mulch (a waste by-product from timber milling); natural clay-based paints and plant-based decking oil; and sent what little waste there was to recycling facilities."
Interest, colour and life abound in this garden and the sense of spaciousness and tranquillity that Glenn has been able to create is really quite amazing. And the judges of the Landscape Industries Association of WA's 2010 Awards of Excellence felt so too, naming Envious Landscapes a Finalist in both the Best Residential Designer — 100m² to 500m² and Best Sustainable Design — Residential categories for this project.