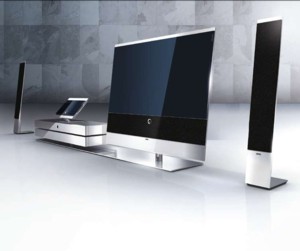 Call it the Apple effect perhaps, but our gadgets and appliances are getting smarter and better looking every day. And what's more, we now seem to expect them to be. Not that Apple was the first group of people to work out that looks and brains are an irresistible package. You only have to think back to the Braun TV, Olivetti's typewriter or the Sunbeam "classic" toaster to realise that some companies have always understood the power of IQ-Candy. It was never a given though, and in the cutthroat world of domestic appliances and home entertainment, the practical concerns of cost points and mass production generally won out over cutting-edge industrial design or aesthetics. Brains and good looks never go out of style as this home media suite from Loewe makes crystal clear. But that was last century. Now our homes are also data and media centres, the digital accessories we all now own are out of date in a nanosecond, and everyone in the family seems to have a PhD in technology. It hasn't hurt that luxury has also seeped into the shopping equation. The companies making our televisions, phones and kitchen appliances know that a sophisticated and demanding audience expects both style and content — and are willing to pay for it. Certainly consumers are flocking to products that offer the promise of hip exclusivity, with new US figures showing a 23 per cent jump in luxury spending, suggesting the appetite for extravagance is back. "I think we're seeing a lot more interest in the quality of our interiors and that's pushing a demand for better design across the board," said Berto Pandolfo, University of Technology Sydney director of Industrial Design. "Sophisticated manufacturing is also helping that trend as designers can now be a lot more minimalist, with cleaner, simpler lines. And I think with a younger generation there's a much stronger focus on the status of objects, on how they look above everything else," Berto added.
That's entertainment
That's definitely been the mantra when it comes to home entertainment, a field that has exploded in choices and options. One of the best places to start, though, is television, an appliance that continues to hold onto our affections. But even here it can be hard to tell one model from another, given the industry obsession with skinny, high-definition models. Well, a company such as Loewe seems to know a thing or two about standing out using distinctive and immaculate design. Maybe it's that ice-cool German sensibility and attention to detail, but whatever it is, it's working. Loewe ticks all the right techie boxes — full High Definition 100Hz LCD technology and 24p motion picture display — but adds in multipleaward- winning components that work well as a package or separately. And if you don't want to invest in the full suite, then Loewe's elegant Connect 26 is the perfect alternative. But don't go just for the looks; this set can also access music, digital photos and videos from a PC, network storage device, Ethernet, or WLAN. Another company showing its design chops, however, is Sony, and its handsome XEL-1 is one to watch. Using the visually stunning, and environmentally responsible, Organic Light Emitting Diode — OLED for short — for visuals, Sony has managed to create what looks like an instant classic.
Plug and play
Headsets, earphones or headphones — no matter what you call them, they've been around since the days of the transistor. But the explosion in mobile music options has helped put them right back in the spotlight, a place they seem to be enjoying given the huge range coming out every year. Expect them to get a lot more popular at home as everyone in the family gets used to their own playlists, podcasts and even movies stored on personalised portable gadgets. While we're being spoilt for choice, some stand out for the way they keep their cool even under the most strenuous workout, dance track or ambient noise. Whether you're looking for wired or wireless, Bowers-Wilkins headset and speakers make a sound investment. Portable music everywhere & in every room, especially when it looks this good. The Brionvega RR226 keeps it modern, but re-invents hi-fi in its own stylish way. Thinner and smarter such as wafer-thin wall speakers from Definitive Technology and Sony's 'classic' XEL-1. Television stays hip as Loewe proves with its elegant Connect 26 Well-placed IQ plus great design is helping to re-define first-class home entertainment. there's something for everyone. Some of the best are by Bose, Sennheiser, Audio-Technica and AIAIAI, but for sheer visual pleasure you can't go past Kotori's candy-coloured creations, or the seriously cool sets being produced by WESC (WearetheSuperlativeConspiracy) or Bowers-Wilkins.
Sound it out
If you think there's a lot of debate about LCD versus Plasma or HD over 3D, you've clearly not spent enough time around audiophiles. To enter the world of music purity is to embrace infinite opinions, preferences and minute decibel-splitting discussions. Clearly there are incredibly accurate — and dare I say expensive — sound systems out there, but matching notes with style is something else entirely. While there are all sorts of sound approaches to music and film audio these days, some companies are getting the looks pitch perfect. LaCie's new Sound2 speakers resemble giant ear buds, the Bowers-Wilkins Zeppelin speakers for computers are classic pods, Scandya's are out of this world, and the wafer-thin wall speakers by Definitive Technology are definitely a sign of the future. However, for sheer design chutzpah it's hard to go past the Brionvega rr226. While the whiff of retro chic puts some people off, this classic white box with '60s styling not only pays homage to design aristocracy, but plays up to the growing interest in a more hands-on approach to playing music at home. Even so, the digital revolution is here to stay and nothing has been quite as popular — or inventive — than portable music player docks. Almost an industry unto itself, the range is huge and getting bigger, steadily being embedded into nearly everything from alarm clocks to book shelves, lamps and even a toilet roll holder by ATech Flash Technology. Some of the best looking, though, are by Geneva, Parrot, Panasonic, Revo and Sharp. Geneva certainly takes the marriage of technology and style very seriously; they call it "a fusion of entertainment and décor" and its high-gloss boxes not only look great, but make beautiful music at the same time.
On the radio
Video killed the radio star? Probably not, given the way technology is shaking up the humble wireless. In fact, recent figures suggest we listen to around 17 hours of radio a week, either directly or indirectly. First came digital with its huge online broadcasting options, crisper sound and interactive features, and now HD radio is promising to tweak the whole listening experience even further. While you'll have to invest in new hardware to plug in to the radio revolution, luckily they're coming down in price and up in looks at a rapid rate. Have a look at the NPR radio by Livio, Yamaha's TSX-130, Sanyo's R227, the Tangent Quattro and Tivoli, whose charming, wooden cubes are a great decorating addition.
Counter intelligence
If you're seriously looking for what's hot — or cool — at home, however, head straight for the kitchen. Food may be the main reason it remains the home's hub, but it's not the only one. Which is why so much effort is going into creating immaculate, open spaces in tandem with appliances that not only think for themselves, but retire discreetly when the job's done. And you don't have to look much further than companies such as Siemens, Gaggenau, Viking and, a little closer to home, Fisher & Paykel to see science and art in action. These companies are all fusing convergent cooking technologies and IT know-how with design innovation at its best. Gaggenau's range of ovens and cooktops is a prime example, suggesting just how committed they are to staying ahead of the curve. The company has been creating restaurant-grade cooking options for ultimate versatility using technologies such as induction, electric, microwave and steam encased in sleek, minimalist lines for some time. Siemens is no slouch in the cooking department, either — check out its Liftmatic oven, for instance — but it's the company's latest fridges, freezers and coolers that have been attracting a lot of attention lately. One of the latest is the aCool Tower which allows tailored temperature control across fridge, freezer and wine cooler zones, but with an added level of design sophistication. Of course, a lot of the new technologies in the kitchen have been designed to take out some of the grunt of actually making a meal. So it's no surprise to see that Sous Vide — French for under vacuum — is the latest must-have gourmet item. Like a lot of recent kitchen trends, Sous Vide got its first break in the heady world of high-end restaurants and is designed to maintain the integrity of ingredients by heating them for long periods at low temperatures. Which means domestic chefs can now experience the marvels of chicken cooked for 24 hours — slow food indeed — and all in a stylish and portable stainless-steel cube.
Time to vent
While we've been distracted by the latest steam ovens and cool drawers, a lot's been going on overhead, too. The humble rangehood, so long overlooked in kitchen design, has been getting its own radical makeover with an injection of IQ and showmanship. Great examples have been coming out recently from Elica, Gutmann, Zephyr and Miele, whose DA 6000 W Cooker Hood took out the prestigious Red Dot Design Award last year. A high-tech vision in glass and stainless steel, the DA captures the contemporary kitchen scene perfectly — appearing at the touch of a button to activate highefficiency motors and mood lighting, but slipping seamlessly back into the wall just as easily. (See the video at http://en.red-dot. org/2855+M563315c0479.html)
Wiping the slate clean
Given the iPad media tsunami, it will have been nigh impossible to miss the fact that media consumption via mobile and fixed connectivity at home is increasingly up in the air. Tablets, pads and now slates are making a big pitch for the middle ground, somewhere between laptops and netbooks in one corner, and smartphones and e-book readers in the other. But once again, delivering the goods with grace and beauty could be the deciding factor in this little skirmish. In fact, that already looks like it's happening as the latest laptops and netbooks have all slimmed down while beefing up their sex appeal. But they have a battle on their hands given the way the slick glass, touch-based pads and slates seem to have cool design hot-wired into their collective DNA. The iPad may have stolen the march on its competitors; the decade-old idea hasn't stopped Apple running out of them and delaying its launch in Asia and Oceania! It will soon be a very crowded party. In fact, most of the world's major PC or handset makers have either announced, or are working on, models of their own. Some of the best ones are the JooJoo (or CrunchPad) by Fusion Garage, the Dell Tablet and the Notion Ink Adam.
Getting framed
The Digital Photo — or Media — Frame was pretty much an instant hit and has probably crept into most homes. While never the smartest gadget on the mantle, it always had a pleasing, usable look that helped make it a winner. But it too has been getting more brain power lately as the gadgets at home face off over which will be the most useful. These days, frames can come with WiFi, play multimedia such as text, movies or music, connect online to photo sharing sites such as Flickr, get emails and even upload remotely. So with a little more attention they're also adding some nice design features as well. Take a look at CeviaLife from Cevia Logic, the Casio Digital Art Frame, the Kodak EasyShare and Sony's S-Frame DPF-V. But for a glimpse of just how multi-tasking the frame is becoming, check out Toshiba's Audio Photo Box. It comes with a 3.5-inch LCD display, 320 x 240 pixel resolution, FM radio, memory card, a music player and an alarm clock!
You're projecting
It's always instructive to see what technology can do to the objects in our lives we've often taken for granted. That's been happening with radio, landline phones and televisions of course, but is now shedding light on the poor old projector. For a long time this was a rather prosaic, dare I say ugly, component that was wheeled out when necessary or hidden away under cabinetry. While projectors that only make an appearance when the lights go down will never go out of style, something else is also stirring. For a start, home cinema-type projectors are not only getting a high-tech push, with 3D, lasers, high definition, online and networked features all coming on board, but something of a style makeover as well. Toshiba, Sony, Epson and Sharp, for instance, have all been bringing out newer models that should never be locked away. But it's the more portable, smaller projectors that you can use on the run that have really been setting the pace of late. These hand-held projectors, also known as pocket, mobile or pico projectors, are not only great examples of rapidly improving technology, but lovely design as well. Companies such as WowWee, BenQ, Aiptek and Aaxa — the world's first pico projector to incorporate lasers — have all helped improve their reputation. For sheer looks and performance, though, you could do a lot worse than Samsung's Pocket Imager which, at three kilograms, can deliver a crisp image using the far greener L.E.D bulbs.
Wash out
Not all home technology need be hard-edged and futuristic, of course, and some of the changes going on behind the bathroom door are definitely helping to smooth out the edges. While most bathrooms may not have had much of a high-tech revamp beyond the introduction of hot and cold running water or flush toilets, that, thank goodness, is slowly changing. One of the most appealing could be the introduction of high-tech, personalised showers and baths. Models such as those from Moen or Comfort Living are not only multifunctional, but can be pre-programmed to personalise the experience, manage it remotely, and even relax you with music from radios or online audio at the same time. Maybe it's a whole new category — not so much intelligent design as augmented reality.