For your living and entertainment areas, innovative LCD and plasma screen supports as well as the plasma lift are modern solutions to keeping unsightly A/V accessories hidden and allow for a flexible design in your living space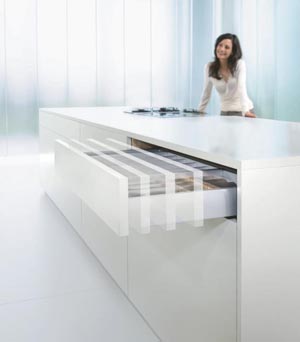 Facts at a Glance:
Plasma television lifts raise the TV for viewing and lower it back into the cabinet to keep it out of sight when not in use.
Flatscreen lifts and pull-out mechanisms are ideal for built-in furniture and caravan applications.
LCD/Plasma screen supports and wall brackets make viewing your T.V. comfortable from any angle.
Audio/Video and speaker supports complement your television brackets.
Storage accessories keep DVD's, CD's and cassettes in order.
The Plasma Television lift can fit up to 50 inch plasma televisions with a load capacity of 80 kg. The flatscreen T.V. lift is suitable for smaller television up to 7.4 kg and can be tilted up to 22º when fully extended. The Pull-out unit can hold televisions up to 12kg, is locked when closed, but can rotate up to 180º and tilt up and down when extended. The lifts are perfect for furniture applications.
In order to maintain the clean lines of today's Audio/Video technology, Häfele Home offers a wide range of easy to mount universal supports for plasma and LCD Televisions. With multiple articulations, the screen can be swivelled or tilted in any direction for the perfect viewing angle in any room. Within the Screen support range, we also offer A/V supports for your DVD players, speaker supports for wall-mounting your surround sound system and cable covers to keep unsightly wires and cords hidden.
Organisational multimedia rails and storage racks are also available to be integrated into your furniture.