M Central from Architechts Dale Jones-Evans and Marchese Partners Architects, is the spectacular conversion of the old Pyrmont Wool Stores into an apartment complex which is redefining urban living.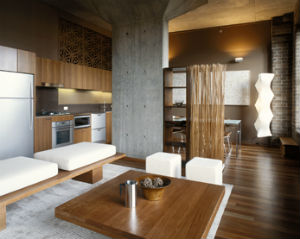 M Central features a range of apartments, from one, two and three bedroom as well as penthouse suites. The complex also features a series of incredible, expansive rooftop gardens from landscape architects 360°, an abundance of parking and covered pedestrian access to Darling Harbour.
The project is a break from the Sydney standard of magnolia on white. With extensive use of timber and veneers, the interior spaces are rich and warm and the exterior is striking and unique.
"M Central is a composition of seductive, warm and uplifting experiences through the use of different timbers in a variety of applications," says architect Dale Jones-Evans. "The transition from car park to lobbies to long corridors to lift journeys becomes intense through the use of stained-orange natural plywood grained timbers.
"The use of timber veneers for walls and solid timber floors in the 168 individual apartments echoes the history of the building's original timber internal structures (removed in the 1980s), providing a feeling of warmth and seduction that is designed to contrast with the raw concrete elements."
This innovative use of timber has seen M Central receive a highly commended honour at the 2006 Timber Design Awards, with the complex becoming one of the most talked about and iconic buildings on the Sydney architectural scene.
Located on the roof of M Central is the "roofscape", a huge park and outdoor area. This striking space is another feature of the project which sets it apart from many of Sydney's large living complexes, where the focus is purely on indoor living and barely a nod is given to the need for outdoor space. The "roofscape" at M Central is a distinctly Australian landscape of grasslands and plants with a network of shaped boardwalks, timber seats and fences, sculpted timber bridges and privacy screens. These outdoor spaces offer a truly unique spatial and environmental experience.
From the historically empathetic exterior to the bold and innovative foyer to the rich and character-filled living spaces, M Central is a truly exceptional and impressive development.
Dale Jones-Evans Architecture
Loft 1, 50-54 Ann Street, Surry Hills NSW 2010
Tel: 02 9211 0626
Email: dje@dje.com.au
Website: www.dje.com.au
Marchese Partners Architects
80 Mount Street, North Sydney NSW 2060
Tel: 02 9922 4375
Photography: John Gollings