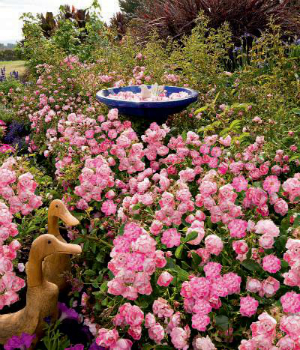 This stunning new two-tone pink rose is a joy to behold and a breeze to grow
No one could possibly walk past this wonderful rose without being stunned. It's extraordinary. It's magnificent. It's so deliciously pink — no wonder they've christened it Pink Splash.
This is exactly the type of rose — and there aren't many — which makes you stop and think. It hooks straight into that part of everyone's brain that isn't full of the list of things we need to do today. Instead, one look at this flowery vision has us pausing mid-step, our minds suddenly full of all sorts of lovely irrelevant things. Strawberry-flavoured gelato, tulle dancing skirts, a pink-iced birthday cake circled with fresh blooms, the rose that brought Beauty and the Beast together.
Luckily, the fantasy doesn't have to end there because this is one of those kind and forgiving roses that anyone can grow — the Flower Carpet Rose. Whether it's this new bi-colour version or one of eight other colours, it's a great rose. Smothered in flowers, always glossily green, it is completely undemanding. Neglect hardly phases it, and when it is fed and watered it is an extraordinary vision.
There are two completely different looks you can create with Pink Splash. The classic approach will always be a winner because classic is just … classic. Working with the two-tone pink-striped flowers, add in some white (Flower Carpet White is the obvious choice, or Christmas lilies, or daisies or Snow Storm agapanthus) and then silver-foliaged plants like lavender, wormwood or lambs' ears. In a long bed beside a sunny path or driveway, this type of grouping will grow together to produce a magically romantic view.
But if you're a fan of hot colours, take your cue from a classic bowl of home-grown roses. Just go out and fill a garden bed with one each of all the Flower Carpet roses and you'll end up with a riot of retro chic — reds, yellows, pinks, whites, apricot and now the splashy, flashy Pink Splash. Either way, you can't go wrong.