The title of "perfection" could well be given to this home, which incorporates everything its design set out to achieve.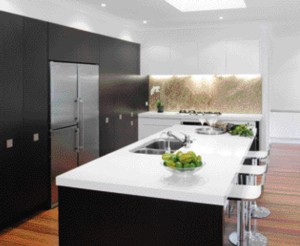 Highlighted by the creative use of jarrah timber, this home's flawless design enhances the panoramic water view. Designed by architect Clinton Cole from CplusC Design and Construction who also built the home on a prime site sloping towards the water, the high-calibre standard of this multi-level residence is set before you even open the door.
Looking up at the home from the timber pool deck presents a more magnificent view than the waterways behind. A combination of outdoor spaces, balconies and decks ensures the home exterior is as cosy and functional as it is aesthetically beautiful. Jarrah windows, doors, staircases as well as various jarrah timber walkways and boardwalks are featured throughout the home, with these timber accents adding polished warmth to the atmosphere. It is the interior, however, that really takes one's breath away. The expertise of Dan Kitchens saw the team construct the master joinery for the entire house. This included the kitchen, laundry, entertainment unit, study, parents' retreat, four bedrooms, bathroom and ensuites, movie room and outdoor barbecue. The request from the client was for an interior that was ultra contemporary and of exceptional quality, with Dan Kitchens easily achieving this.
With designers naturally drawing on inspiration from the waterfront setting, the joinery design concept also stemmed from the contemporary elegance of the architecture and the opulent choice of materials. White polyurethane joinery with jarrah accents was chosen to complement the home's overall appearance and atmosphere. Building the house over four levels was a challenge in itself. Surprisingly, it was the kitchen that posed the biggest challenge as the main bench was built down over steps. Either side of the Corian Glacier White island benchtop, at the dining room end of the kitchen, three beautiful jarrah steps lead the way to the heart of the kitchen or right on by the classic bench seating. This room features colour-coated glass splashback and quality appliances from Gaggenau and Miele. In the bathroom and ensuites, Dan Kitchens has done an incredible job to keep these rooms stylish yet relaxed. Soft, neutral-toned tiles and white elements are a reflection of the home's overall appearance.
Personalisation of the home furnishings was all about class. Upstairs, a piano and stool are positioned just inside the balcony where bi-fold doors and glass balustrades make the most of the view. Colourful highlights such as rugs, cushions and art feature throughout and work well to build a sense of character. Each detail enhances the next, with the owners saying that when you walk through the house and see the beautiful joinery, it harmonises the rest of the home and the impeccable water views. 
It's a home well worth living in.