The Grass Nova Pro drawer system from Häfele offers more features and options than any other drawer available in the market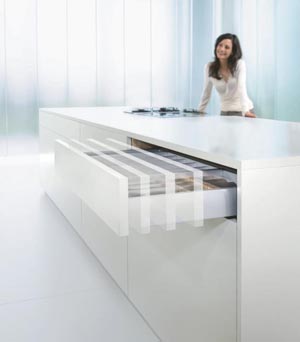 The drawer sides and opening types can be mixed and matched to suit your design and lifestyle. Select the perfect features for your kitchen:
Nova Pro, the original Airmatic soft-closing drawer range, offers a smooth-running and silent drawer option. The full-extension drawers allow for flexibility and variation on the interior of the drawers, with specially designed cutlery trays, spice containers, internal drawers and hanging waste bins.
Tipmatic-Plus, the touch-to-open drawer for handleless fronts, provides a clean look, convenient opening and reliable closing. The opening length of the drawers is two-thirds of the extension, offering more space and efficiency in the kitchen.
Sensotronic, the world's first "intelligent" drawer is electronically controlled over its entire length. Drawers, pull-outs and interior pull-outs can open and close in response to a gentle tap. The drawers also think with you: they sense resistance and stop, avoiding collisions and protecting against injuries.
Sensomatic, the electromechanical drawer system, offers electronic opening and Airmatic soft-closing of drawers and pot drawers, striking a balance between design and functional comfort. Like the Sensotronic, the drawer movement can be triggered by a touch on the drawer front. However, the drawer closes with a smooth and silent cushioned closure.
If you have a more traditional kitchen, the Interwood drawer system for timber drawer boxes has now expanded to include not only 40kg full-extension Airmatic soft-close runners, but also features regular extension and Tipmatic-Plus push-to-open runners.
The entire Häfele range of Grass drawers can be mixed and matched to create the look and functionality you desire in your kitchen. Best of all, the extensive range of Grass Drawer accessories helps individualise your kitchen storage. The accessories include timber and plastic drawer inserts for bottles, plates, cutlery and spices. In addition to storage and organisation, non-slip mats and hanging waste bins are available specifically for the Nova Pro range.