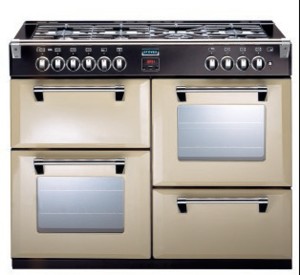 Belling — big on choice, big on features.  
If stainless-steel isn't your thing but versatility is, look no further than the new Richmond range of upright cookers by Belling. Available in 90cm and 110cm dual-fuel models, this remarkable range is designed to suit any lifestyle — singles, couples, small families, big crowds and anything in between. The Richmond range represents the perfect union of modern technology with classic design, featuring multifunctional facilities and numerous cooking compartments within a striking black or stylish cream enamel exterior, finished with sturdy chrome fittings. The 90cm Richmond range offers a fan-forced electric oven complete with a massive 91-litre capacity and an amazing 25 shelf positions. To top it off, it is also designed with a one-piece hob including five burners — it's the most adaptive oven in its class.
Not to be outdone, the larger Richmond 1100DF boasts a one-piece gas hob with seven burners atop a fan-forced electric oven and a slow-cook compartment. In addition to these outstanding features, all models offer wok burners, removable gloss cast-iron griddle, separate variable electric grill, telescopic shelving, a multifunction electric main oven, a programmable second oven with a simple three-button programmer and a classy chrome towel rail. Both are made of easy-clean enamel, which means no more scrubbing your oven, just a quick wipe clean to make it sparkle again, ready to create another gourmet feast. With the Richmond range, Belling has done its utmost to bring you the ultimate in oven control and design brilliance. In doing so, it has created a collection of ovens rich in both functions and features that will prove a welcome addition to any kitchen — be it for streamlined singles or ravenous hordes.