East Coast Building designed and built this beautiful island home based on classic 'Queenslander' principles.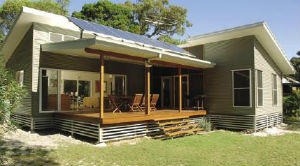 Moreton Island is a largely world heritage-listed national park, with four small, capped settlements. These settlements have until recently been nothing more than fishing villages, with a few hermit residents. Bulwer is the most northern of these villages, and is serviced by a vehicle barge from Redcliffe Harbour, the 'Combie Trader II'. The 'Combie' provides access, supplies, building material transport, refuse removal, and is generally the life line to the settlement. This makes the whole process of building and living on Moreton Island quite expensive, and generally constrained.
The clients bought this land to build a holiday getaway for their family and friends. The sheer cost of doing so meant that the house needed also to cater for holiday letting. The returns that the house will receive during the high rental season will make it much more affordable for its owners, who say they just love going there for the peace and quiet.
The design is based on good old-fashioned 'Queenslander' principles, so as to cope with the mostly tropical Brisbane climate. The house is elevated to allow cooling breezes to flow under the floor, with wide overhangs and large outdoor deck areas. The large open-plan living space has openings on all four sides, to allow ultimate breeze flows and high ceilings, with high clerestory windows to provide summer ventilation or winter morning sun to stream down into the main hub of the house.
Bedrooms; the house sleeps up to nine, all lead off a hallway, which is more like a breezeway, allowing airflow from the northeast to be streamed right through into each bedroom, as required. The extensive use of louvres also ensures maximum airflow.
Like all clients, they wanted a low-maintenance, cost-effective design. The extensive use of Colorbond and fibre-cement cladding, coupled with cost-effective ply and timber interior finishes will ensure that this home will not require constant repairs or painting. Island living has two main enemies, sand and salt — an elevated house reduces the amount of sand that blows in, but nothing stops the salt. Choosing low maintenance materials, with appropriate manufacturer's warranties is the best solution.
Bulwer is a 'beach shack' town, with many of the newer homes also following a more contemporary beach theme, as seen in many coastal mainland locations. Simple skillion roof forms, with cost-effective cladding materials were chosen to highlight the nature of the home, while ensuring affordability now and in the future.
With the help of interior designers Harward & Brown from Stones Corner, the owners were able to achieve a very clean crisp look, while using colours that blend with the landscape. Extensive use of plywood and natural timbers within the home also offset the plain plasterboard walls, and maintain the contemporary minimalist look, without dating the home.
The team at East Coast Building Design have completed hundreds of transformations on older homes around Brisbane and beyond, as well as a large number of new houses. East Coast Building Design's principal building designer Owen Batchelor has been designing homes in and around Brisbane for almost 20 years. The other members of the design team also have many years of experience, both in the residential and commercial sectors. They pride themselves on giving clients a full package of services from the early design inception through to the beginning of the construction process.
They can also offer a design consultation or pre-purchase assessment at a nominal fee for those clients who want to see what design potential their home or prospective home might have. Just because the agent says you can do something, don't get caught — there may be council planning issues or environmental matters that prevent some home owners from being able to renovate or extend their homes as they would like.
East Coast Building Design has consistently won awards in the Queensland Building Design Awards since entering the competition in 2001. The company won state design awards in 2001 and 2006, as well as a coveted national design award in 2002. These awards have been spread across a wide range of residential and non-residential categories. –CHD–
East Coast Building Design
Suite 11, 713 Sandgate Road,
Clayfield Qld 4011
Tel: 07 3262 1200
Fax: 07 3262 1600
Email: enquiries@eastcoastbuildingdesign.com.au
Website: www.eastcoastbuildingdesign.com.au
Bookings can be made through Moreton Island Real Estate on 07 3408 0099, for a weekend, full week or holiday periods.