With carefully considered special touches, an interior designer updates her home for today's living and beyond.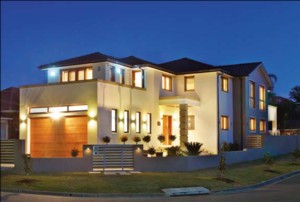 This double-brick two-bedroom home was approximately 60 years old and obviously, with the passage of time and significant changes in the way people live, in 2010 it did not meet the current owners' requirements.
Sana Saad, interior designer of Sanita Interiors, and her husband Paul asked architects Pagano Architects to build them a practical home to suit their family's lifestyle and to make it aesthetically attractive using quality fittings throughout. Then Sana used her extensive interior design expertise and knowledge for the interior design of the project. A wonderful first impression is created when the front door opens, revealing an elegant foyer with a curved glass staircase and large ribbon ball pendant chandelier from Lighting Creations. "The entry foyer has a glamorous and elegant feel," says Sana.
The house functions very well due to practical design, open-plan living and an extensive outdoor living area. "We love to spend time entertaining family and friends so we decided to have open-plan living, with a generous-size kitchen and huge walk-in pantry to enable stress-free entertaining," says Sana. "We wanted to have a very practical alfresco outdoor area with a fully equipped kitchen, fridges, sink, gas barbecue, industrial fan and television. I would have to say my favourite part of the design is the kitchen with sliding cedar windows, which open up as a servery to the alfresco dining area."
Honey Jasper granite was selected for this outdoor area. No longer is this a simple two-bedroom abode; it now features four bedrooms, a study, ensuite in the main bedroom, kids' rumpus room and main bathroom upstairs, powder room and large living room downstairs, and an outside bathroom for pool patrons. This layout is complemented by a neutral colour scheme, such as Dulux Hogs Bristle for the walls of the kitchen, dining and living room, master bedroom and stairs, along with simple yet sophisticated furniture choices. "It was important to incorporate a seamless and neutral look, which comes alive with elegant furnishings and splashes of colour, such as the burnt-orange glass splashback in the kitchen," says Sana. "A lot of thought has gone into creating special features, such as the cut-out wall with downlights, then practical storage such as floorto- ceiling store space in the garage with an allowance for a full-size fridge; a laundry chute from the upstairs family bathroom straight into the laundry; a generous pantry with sliding stainless-steel drawers and plentiful container space — every woman's dream!"
In addition to the vibrant glass for the splashback and island, the kitchen, designed by In Vogue Kitchen and Joinery, boasts a more neutral palette such as CaesarStone Avalanche benchtops and polyurethane cabinets in Bristol Otter Skin. As the house was built with double brick and is also insulated, it's not only very cool in summer but warm in winter. "We found we do not use the air-conditioning much at all," says Sana. "It's a very comfortable home because it is built practically. The home was designed to allow for cross-flow ventilation so breathes very well." With floor-to-ceiling back sliding doors and plantation shutters, light is controlled beautifully throughout the house. Flooring in the kitchen, dining area, living area and staircase is limestone marble, and for the bedrooms Sana chose grey ironbark timber. High marble skirtings throughout are a very elegant look and a superb finishing touch to the marble floors. The powder room downstairs has slabs of emperador marble, which looks very beautiful. Each bathroom has wall-mounted toilets and vanities. All vanities, from Sannine Bathrooms, are polyurethane in Bristol Otter Skin to match the kitchen cabinetry. Every shower has single slabs of marble (no grouting) and custommade grates. "With the use of high-grade stainlesssteel bathware and high-quality fittings, Plenty of light is captured in the house, with massive ceilings and high-set windows. maintenance is no issue," Sana says.
Outside, the family spent a substantial amount on landscaping and pots from Green Fern Landscaping. These are all lowmaintenance plants and are on an irrigation system with a timer. While the family has an extensive entertaining area, "due to space restrictions we were unable to have extended grass in the backyard for the children to play on, but it's not really a major issue as we are in walking distance from parks and the bay," Sana says. "It is a special home because it is designed for our family's lifestyle and at the same time it is both cosmetically elegant and practical."