Nestled in bushland, this expansive country-style home embraces nature.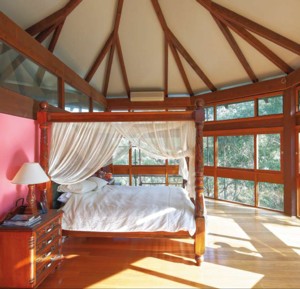 Positioned on acreage in Northwest Sydney, this grand sevenbedroom home was sited to provide a vantage point to appreciate the natural Australian bushland. Spread along a site contour ridge, it looks out over a valley towards a creek.
Designed by John Bourke of Homeplan Architects, the home encourages a relaxed lifestyle, with internal living spaces strongly connected and flowing to expansive external terrace areas. The architectural design is based on a central octagon shape with a second-storey mezzanine level. Large open-plan living areas service the various activities and functions of the family. Recycled materials have been used to give a relaxed feeling, and bring aspects of an interesting past into the home. Natural materials such as sandstone, timber and glass are expressed to create an organic feeling rather than a minimalist design. Large recycled ironbark bridge timbers have been used as columns and beams supported by recycled sandstone blocks laid as thick wall massing to create a strong rustic character. Clerestory wall and roof glazing provide good solar access and natural lighting, while cross ventilation is achieved with adjustable roof ventilation and louvre windows. The magnificent home is integrated with the natural site levels, and its mezzanine and loft levels take advantage of high roof areas. The layered roof design allows for central internal access of sunlight and creates vistas from inside to outside, with glimpses of the natural leafy setting on offer from all parts of the home.
"My favourite space is the mezzanine studio gallery. It overlooks the vaulted living spaces that are flooded with natural light from clerestory windows and create an exciting lifestyle," says John. "This home is special as natural sandstone and timber materials provide warmth and integration with the Australian landscape setting."