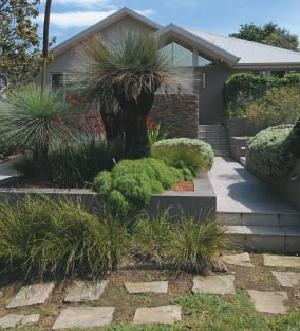 The key to a water-wise garden is choosing plants that match your growing conditions
By Karen Booth
When planning a water-efficient garden, it pays to take the time to walk around your local area and note which plants seem to be flourishing, especially during dry periods. A visit to your local nursery and/or garden centre is also recommended. Ask to speak to the on-staff horticulturist who can give you advice on drought-tolerant or low-water-use plants to match the growing conditions in your garden.
It's not just the feature or bedding plants that need to be considered. Trees have a role to play in the eco-friendly, water-conserving garden, providing much-needed shade, as do climbing plants which can be draped over a pergola or lattice work to provide shade and privacy, and small shrubs and groundcovers which help to moderate soil temperature (reducing evaporation) and bind the soil (minimising erosion and water run-off).
Design success
Designing a garden with drought-tolerant plants is easy. Do you need architectural form or a sculptural silhouette? Consider yuccas, cordylines, dracaenas or the grass tree. Need a way to fill the gaps between plants or rocks? Why not try a succulent, such as one of the many euphorbias, sedums or perhaps a hardy Australian native ground cover such as coastal rosemary or creeping boobialla. Want a flourish of flowers? Then look to the agapanthus, geranium or the native kangaroo paw. Some roses are very drought-tolerant, too. To soften the hard edges of paths or for a little movement try an ornamental grass such as Lomandra 'Lime Wave' or 'Seascape' or the popular Liriope muscari.
Of course, you still need to match the plants to your local climate and growing conditions, but you get the idea. There is no shortage of attractive and interesting plants available to you and that includes plants that are indigenous to your area. These are native plants that are already naturally adapted to growing in the local conditions so are better adapted to weathering dry or tough periods.
Native or exotic?
Drought-tolerant plants include Australian natives and introduced plants. Some have distinctive characteristics, such as silver or grey foliage, or smaller, thicker, hairier leaves. The latter are especially good at maximising rainfall. Plants with dense foliage and furry leaves can capture drops of rain, thereby ensuring the water drips more slowly into the soil. This allows the water to infiltrate the soil more evenly. Conversely, waxy leaves tend to repel water, allowing it to hit the ground faster where it runs the risk of pooling on the surface in a heavy downpour and then being wasted due to run-off.
The biggest range of native plants will be found at a specialist native plant nursery. You don't necessarily have to visit them as you can buy online or over the phone and the plants will be sent out to you. Garden centres are now stocking a greater selection of native plants and the same rules apply as when buying exotics. Read the plant label to check if the growing conditions and mature height of the plant is correct for your garden, and make sure that the plant is upright, the leaves are healthy and the plant is not pot-bound.
Growing conditions
Ultimately, the goal is to match the plant to the growing conditions, which includes the amount of water you have available for establishment and irrigation, as well as soil type and aspect. Often plants that hail from naturally hot, dry parts of the world, such as the Mediterranean, can be a reasonably safe bet for dry climate gardening.
It also pays to read the labels on the plants before you buy. If in doubt, choose plants that are labelled dry- or drought-tolerant.
Having chosen your plants, group together those with similar water requirements so you can implement an efficient irrigation system. And, of course, they need to be planted in nutrient-rich, well-composted soil into which a soil-wetting agent has been added. To top things off, add a layer of water-conserving mulch over the surface of the soil and you are ready to enjoy your dry climate garden.
Planting Success
• Match the plants to the conditions. For example, if you have heavy clay soil, don't struggle to grow plants that only thrive in free-draining sandy soil.
• Zone your plants by grouping those with similar water requirements. If you have a sloping yard, place plants that need more water at the bottom of inclines.
• If possible, plant in the cooler months to give your new plants plenty of time to establish themselves before the heat of summer.
• Soil preparation is the key to all planting success. Mix in organic matter, compost and soil-wetting agents before putting plants in the ground.
• After planting, add a layer of water-conserving mulch. If possible, mulch garden beds after rain to maximise water retention.
• All new plants need regular watering until established. Regular deep watering that gets to the root zones is the most efficient means of irrigation.
• Pots tend to dry out quickly. Combat this by using a potting mix with water-saving crystals already combined or use a wetting agent when planting.