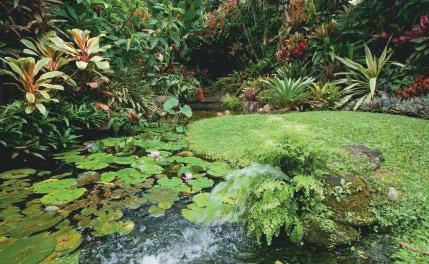 No matter what the season, this foliage-rich sub-tropical garden presents a cheerful face
By Carrol Baker

Photography Glenn Weiss
Tucked away in the Brisbane suburb of Sunnybank is Dennis Hundscheidt's enchanting sub-tropical garden. As you open the ornately carved timber Bali gates, you step through into another world.
The garden is around 1000 square metres, and is made of three house blocks. Dennis purchased the original home more than 25 years ago and subsequently acquired two adjoining properties so he could increase the size of his garden.
The dimensions of the garden are deceptive, as it appears to be much larger than it really is. "You never see the garden in its complete entirety because I've developed it into a series of unique garden rooms," says Dennis. "And as you wander through, there is always a surprise lurking around the corner."
The garden is an evolving piece of art, a canvas of colour and striking tactile form that continues to evolve.
Meandering pathways of pebbles or pavers link each garden room. "I chose pebbles and stepping stone pavers over hard surfaces," says Dennis. "If you have a hard surface it tends to channel water in one direction, with an organic surface like pebbles, the water goes through it."
Most of the pebbles, pavers, edging and the numerous stone artworks that feature in the garden were hand-picked by Dennis on buying trips to Bali. Dennis also frequently jets off to exotic overseas destinations to source additional plants.
The block was originally completely level, and Dennis began the project by bringing in more than 400 metres of soil to provide the undulating canvas in which to plant his garden.
The garden contains more than 100 palms sourced from Asian countries including a beautiful Madagascan Bismarck palm (Bismarckia nobilis). Numerous varieties of vibrant tropical plants include an array of foliage plants such as gingers and heliconias, cordylines, crotons, and bromeliads. The majority of the plants in the garden are foliage plants. "That has always been a signature of my garden design," says Dennis. "It doesn't matter what time of year you come through the garden, there is always lots of colour," he says.
Bangkok rose (Mussaenda philippica) and Brazilian red cloak (Megaskepasma erythrochlamys) are among the featured flowering species, adding splashes of pretty pink and riotous red for six months of the year.
As you journey through the garden you are greeted by the soothing sounds of running water; there are 12 water features scattered throughout the gardenscape, and a luxurious tropical swimming pool.
Featured in the centre of the garden is a Bali hut. There is also a paved nook with table and chairs, which Dennis says offers a perfect warm winter relaxation space as it attracts a lot of sun.
A gently cascading waterfall flowing from a stream that contains lotus and tropical water lilies takes centre stage in the garden. The sub-tropical landscape is also home to varieties of insects and skinks, lizards and frogs, creating a thriving biodiversity of plant and animal life.
The garden is completely organic, with no chemical sprays used. It's also very low maintenance. Compact multi-layered planting means only one additional wheelbarrowful of mulch is occasionally needed. "The natural mulch and dense planting suppresses weeds and inhibits moisture loss," says Dennis.
The garden is supplied with bore water via a micro irrigation system when necessary.
Dennis says the key to good garden design is deciding on a theme, and then focusing on a balance of plants that work well together. "Choosing plants that require the same nutritional elements and water requirements also adds to ease of maintenance," he says.
The garden is part of Australia's Open Garden Scheme, (www.opengarden.org.au), with a dedicated group of followers returning year after year to experience this tranquil subtropical haven.