At the end of a stressful day, what could be better than a long, hot soak?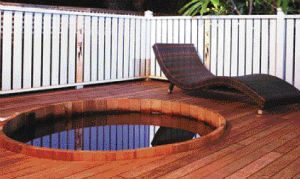 Soaking in hot water for relaxation or therapy dates back to the origins of written history with Alexander the Great using it to revive his troops after a tough campaign. Then there were the ancient Romans, who loved a hot soak, building the town of Bath during their occupation of England so they could enjoy hot water bathing.
Jump ahead to 1969 when a member of the Jacuzzi family, who had emigrated from Italy to America, developed severe arthritis. To ease her pain, one of the seven Jacuzzi brothers came up with the first bathing tub to be fitted with jets. This timber design soon grew to incorporate a filter, heater and sanitisation.
Demand rapidly grew but hand-building timber tubs is labour-intensive and the brothers couldn't keep up. As a compromise, they came up with the idea of the synthetic tub. Of course, the benefits of using timber are plentiful. There is the appearance, the woody aroma and the seating configuration, which allows the user to sit in an upright position, thus getting more benefit from the jets.
Also, the lifespan of an acrylic tub varies depending on the quality of the shell, from one season to about 15 years for a good one, whereas timber, if correctly treated, will outlast the owner.
Ukko tubs are built from only the finest grade A clear western red cedar imported from Canada. Silicon, with its limited life, is not used between the individual staves; instead, the waterproof seal is achieved by using the ancient art of cooperage (barrel making) and by the use of a unique profile that allows the natural absorption of the water to form the seal.
As western red cedar is a very porous material, it's a great insulator, so when combined with the 99mm-thick childproof cover supplied with the tub it acts like a giant thermos flask, keeping the heating costs to a minimum. These costs can be further reduced by using the natural gas heating option.
Ukko Industries also imports a range of Finnish saunas built from Spruce, the traditional toxin-free timber used for all saunas in Scandanavia, plus it custom-builds saunas where required. Ukko Industries even has a sauna you can take camping with you.
One of the latest additions to the range is a selection of imported Finnish log cabins, with sizes ranging from 2m² (ideal as an outdoor toilet) up to 51m². The larger models even incorporate sleeping lofts.
Photography by Peter Brennan  
For more information visit www.ukkotubs.com, www.ukkosaunas.com.au or www.ukkoindustries.com