Victorian chef/restaurateur Ben Higgs shares his culinary journey and a delectable duck recipe.
By Vasili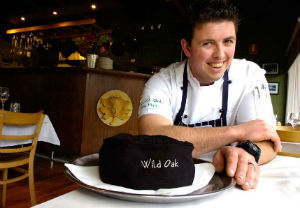 It wasn't always good food for Victorian chef/restaurateur Ben Higgs. Growing up on cheese and Vegemite sandwiches, he became desperate for more interesting food when he was still a kid. At the tender age of 15, starting at the bottom of the food chain, he worked tirelessly on weekends, school holidays and even some week nights, washing dishes and cleaning pots, just to get into a commercial kitchen and gain some experience. At 16, Ben left school to pursue a cooking apprenticeship and was fortunate enough to work under one of Melbourne's best chefs, Jacques Heraudeau. It was an adrenalin rush for Ben 24/7 and having to work 12-hour shifts five days a week didn't faze him a bit.
Over 10 years ago, he achieved his career ambition to own and operate his own restaurant, purchasing the iconic hills eatery, Wild Oak, winner of Best Modern Australian Regional Restaurant 2010 and known for using fresh local produce and its friendly service and a relaxed atmosphere. Other awards include Yarra Valley and Ranges Restaurant of the Year, Menu of the Year and one toque in Good Food Guide. Though he has travelled to many parts of the world, Melbourne is Ben's favourite city for its diversity, great coffee and food, fabulous produce and the fact that you can be on the beach or in the cool rainforest in less than an hour.
His biggest influence in his cooking is travelling abroad three to four times a year, mainly in Asia, to cook and present wine dinners for Australian wine companies, always visiting a cooking school wherever he goes. The different cooking styles and ways of using produce fascinate him and he brings back the experiences and knowledge to pass on to students at his own cooking school. Ben's partner Jilly Sime is the operations manager at the restaurant and she also runs Wild About Tours and is passionate about the Dandenong Ranges and the Yarra Valley, taking small group tours of the Dandenong Ranges, including its parks and gardens. Ben and Jilly believe in living a wholesome, soulful life. He is a gentle chef who is considerate of his environment. He aims to tread lightly while running a successful business and being a family man.
What's your favourite kitchen utensil?
It would have to be the Thermomix. It does just about everything, from blending to steaming and weighing, and it even makes a mean cappuccino! You would have to own one to understand.
What is your favourite dish?
I don't have a favourite dish. In fact, at home I'm happy with a lovely organic steak on the barbecue — simple and fresh. I enjoy interesting food rather than have favourite dishes.
Your view on organic/nonorganic/ fast food?
My view on fast food is this. Fast food doesn't have to be processed. A banana is about as fast as you can get. I'm not a fan of processed foods, preservatives etc. My restaurants, cafes and home are all about fresh food and I'm committed to teaching people in my cooking classes the same. Processed food is not good for your body and not even good for your weekly family budget. I don't know if you have ever heard of this before but I like to teach "fast and furious" versus "cheap and cheerful" — family dinners for less than $10, ready in less than 10 minutes. Also, slow cookers make a great family meal — maximum nutrition, minimum effort and very cost-effective. I'm not judgemental and I understand why busy parents want to put their feet up and enjoy their home and kids at the end of the day, but I want to show that cooking can be fast and fun, or slow and sexy.
Tell us about your cooking schools and how important they are to you.
Wild Oak is committed to teaching children from age five to 15 to cook. Jilly — the Domestic Goddess — teaches children the joy of food from the garden to the table. Classes cover nutrition, balance, touch and smell. Jilly likes to teach "tongue food" in moderation: ie foods good for the tongue and nothing else (tarts and cakes etc). With busy lifestyles, parents don't find the time to teach cooking skills. Cakes come out of boxes and packet mixes these days. It's a shame to lose our traditions, such as bread and pastry making, pasta making and preserving. Kids in the Kitchen is our very successful children's cooking program.
Your signature dish?
I have two signature dishes: one is a 12-hour confit of duck and the other is an exotic mushroom risotto, but the old favourite bombe Alaska is still high on the list, too. The exotic mushroom risotto is a most unusual flavour combination — Japanese and local Yarra Valley mushrooms, Indonesian sweet soy, French truffle oil, Italian Parmesan and Yarra Valley goat's cheese.
Your least successful dish?
My least successful dish was a chilli and coconut polenta. I played with it in the kitchen but really wasn't happy with the results. Unless all my staff try a dish and give their positive feedback, it doesn't make it onto the menu. I can say that I'm not ego-driven but I always look for positive and constructive feedback on a day-to-day basis.
Who is the most important person you have cooked for?
The most important people I've cooked for are my partner Jilly and my children. I believe family and friends are the most important people in your life and food is a great way to get together and enjoy each other's company. I've had the privilege to cook for PMs, pop stars, movie stars, and celebrities but, to be honest, every guest who walks through our door is special.
Your current and future ventures?
Our next venture is at home. We have just planted my terribly useful garden. Jilly is English, so she enjoys her English cottage garden with its roses, lupins and poppies. By the pool we have our exotic garden with its palms and birds of paradise and in the back of the garden we have our maples, rhododendrons and camellias. I wanted a really useful garden, so we have planted herbs, vegetables and fruit trees with some edible flowers, like lavender. I am very interested in organic gardening, so I've planted nasturtiums to keep pests away from my lettuces and I use a secret aphid mix made in my kitchen with oils and chilli. I think I learnt that one from you, Vasili. We are also members of the Diggers Club and very much enjoy their range of plants and seeds. Another of our ventures is our bantam chickens — they hatched yesterday and they will be free ranging in the garden so we can collect their fresh eggs for the children, who will also look after them. www.elmswoodestate.com.au www.wildabouttours.com.au www.wildoak.com.au www.benhiggs.com.au
Ben's Slow-Cooked Confit Duck with Sweet Pea Puree & Madeira Jus
By Luke Mangan 
Serves 6
Madeira jus
Ingredients
750ml Madeira/Malmsey
1 litre rich duck stock
300g unsalted butter
Method
Reduce stock by half in a saucepan. In another pot, reduce madeira until it has a honey consistency. Add the two together at this stage. When ready to serve, whisk cold butter into the hot sauce to add richness and shine (this step can be omitted if you are particularly fond of your arteries).
Sweet pea puree
Ingredients
1 onion, finely diced
1 clove garlic, crushed
350ml cream
800g frozen peas
Method
Saute onion and garlic, add cream and bring to the boil. Add peas and cook for a very short time to retain greenness. Blend to a fine consistency in food processor.
Duck
Ingredients
6 duck legs
1kg duck/goose fat
Method
Source legs of size 21 ducks (can order with most good butchers). Sear skin side in a heavy-based pan and season liberally with salt and pepper. Immerse in melted duck or goose fat and cook at 85–95ºC for about 7 hours or until soft. Arrange duck legs on pea puree and drizzle with Madeira jus.