Utilise the full potential of your pantry with the clever designs available at Häfele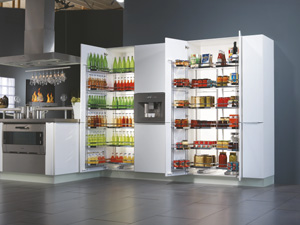 Rearranging the pantry every time you go to the supermarket can be extremely frustrating. Trying to fit everything into poky spaces and corner cupboards can be tricky, but with clever design it's easy to fit absolutely everything including those impulse purchases.
Häfele's new solution for saving pantry space is the Kesseböhmer Tandem, which offers sleek design and quality in every last inch. Revolutionising the way you think of storage, shelving is maximised throughout and no part of the space is wasted.
The pantry opens and closes silently with the optional soft-stop mechanism ensuring you avoid slamming the door. Each shelf is fitted with an anti-slip base that prevents the contents from slipping.
Lesser-used kitchen supplies are also catered for with pullout technology allowing you to access shelving at the back of the pantry. Rear shelves come forward automatically without the need to reach over tall jars or bottles.
Everything is at your fingertips as the Kesseböhmer Tandem pantry gives you storage on the inside of the doors — just open it easily to peruse all your ingredients and food products.
The generous size caters for 450mm, 500mm and 600mm cabinets and can also be integrated into one cabinet twice.
Maximising your main pantry, an area that has been long forgotten, the Kesseböhmer Tandem system updates the humble pantry and gives you the space you need without redesigning your whole kitchen. It's a joy to use and lays all your food or gadgets out in front of you so no occasion goes without your favourite ingredients.