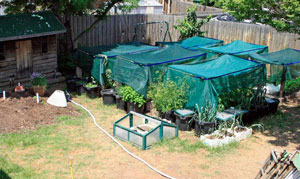 When Michael Howard invited me over to see his garden, I was quite confident I would be impressed with what he'd have to show me. I'd Met Michael and his wife Caroline a week earlier at their local shopping centre in Melton where Michael came up and introduced himself. Instantly revealing his true passion for gardening, Michael began to explain it was only his second year of gardening and he was putting a lot of emphasis on sustainable gardening practices. I always love visiting other people's gardens, so I couldn't resist the opportunity to go and see Michael's garden and learn about his and Carolyn's approach to sustainable gardening and their methods.
My father always told me when I was a young boy, "Son, there is always something to learn from everyone, young and old." So, in gardening terms, whether it's water saving techniques, composting or just simple planting methods, there is always something to learn, so I was excited to go and visit Michael's two-yearold garden. As I was heading out to Melton, driving along the highway I noticed that the grass along the nature strip and fields was literally turning yellow as we neared Melton. I feared finding the same at Michael's place, but when I arrived I found it was quite the contrary.
Currently, Melbourne is on stage 3a water restrictions and so is Melton, but this would not be the situation for Melton if it wasn't for the additional allocation of water from Melbourne. Judging by the scenery on the way, trust me when I say there wouldn't be much life left in Melton if it wasn't for the allocated water, especially with their dam only about 6 per cent full. How can any town survive with so little water? But there was no need worry about Michael. He's all set up and ready to go if another heatwave hits Melton. With more than 9000 litres of water stored around the property in various tanks, which are connected to a drip irrigation system that's installed in all his garden beds, for Michael it's a simple turn of a tap to water his gardens.
Melton's natural soil is clay-based, the most difficult type of soil to cultivate at the best of times, let alone during a drought period. As rich as it is in nutrients, clay soil can turn into concrete if the moisture is left to dry out completely. In fact, you'd need a jack hammer to break through the crust if it dried hard enough. Well, that was once the case for Michael, but instead of a jack hammer he came up with his own invention, using 50mm pipe. He drilled holes all around the lower part of 400mm lengths of pipe, then dug the pipes into the ground around his plants. Now, as he waters his garden, he also pours some water into the pipes, which allows the water to go straight down to the roots where it's needed the most. Using normal mulch was a problem for Michael, too. He found that nasty pests and insects quickly moved in and multiplied throughout the layers of straw, destroying all his plants along the way. We all know mulch is very important in the garden as it helps to control weeds, retain moisture and stop the surface crusting over. But for Michael, because of the extreme dryness around his garden beds, the layers of mulch were a haven for insects. So Michael decided to cover his garden beds with shade cloth instead of mulch. He has nine raised timber garden beds, each about 2.4 metres long by 1.2 metres wide with timber framework that stands about a metre high over each garden bed. Michael drapes the shadecloth on this framework and ties it down, covering and protecting each bed from the harsh Melton sun.
However Michael says, "The shadecloth should cover the top but only one-third of the sides. It should not reach down to the base of the garden beds because the plants still need some direct sunlight. What we are trying to do is to reduce the overall time of direct sunlight the plants receive, which will reduce evaporation and dehydration, meaning they will require less water and less attention." I must tell you it was amazing — proof that you don't need to build those huge contraptions they call shadehouses just to grow some vegies. Most of us don't have the space, anyway. Even a 1m x 1m garden bed is enough space to grow vegies for two people all year round, and covering them with shadecloth will allow you to grow varieties that are out of season and will even stop wind and sun burn.
Michael has a little bit of everything growing in his garden, from tomatoes, cucumbers and potatoes to lettuce, cabbage, broccoli, cauliflower and even onions. For someone who's been gardening for only two years, there sure is a lot to learn from Michael and his gardening success. Being able to grow many varieties throughout the different seasons is a proud achievement that doesn't go unnoticed. His association with the Melton Sustainable Living Group allows him the opportunity to hold open garden days where many people from the group and others visit Michael's garden to look, learn and share gardening tips. So for those with hard soil, raise your garden beds and get some water pipes with holes for deep watering, a dripper system and mulch if you don't have pest problems plus shadecloth for that extra protection from harsh weather and soon you, too, will be celebrating your gardening achievements and enjoying wonderful healthy produce throughout the year, just like Michael and his family.