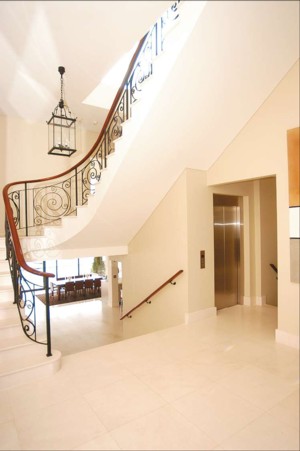 "Progress is not a static option."
 Bernard Edwards from Lift Shop feels confident about innovation in the Australian lift market. The needs and wants of the home-improver have changed so that they circle, confused, between recently acquired environmental concerns and a natural pride in aesthetics and function. Luckily, as Bernard said, progress doesn't just happen once or twice. It describes an industry's consistent preoccupation with the betterment of technology that appeals to the modern market. Joanne Fell of Liftronic supports this notion, concluding that with an increasing amount of multi-level residential designs, and the market's desire to do the right thing, "a creative approach is what's required to move people throughout their space". Lift Shop's Supermec home elevator is an example of how the market's desires have been considered to create a wonderful piece of technology. It operates as a traction-driven machine-room-less (MRL) elevator, different to the hydraulic elevator in that it uses a battery (that lasts approximately four years) and counterweight system to support and move the car mass. Without going too far into the nuts and bolts, basically this means the Supermec and other traction-driven MRLs use only 13 per cent of the power a hydraulic equivalent might. The design options are also impressive and extensive. As an example of how far you might go in customising this lift, socialite Rose Porteous designed a gold and glass Supermec with a matching gold and glass lift shaft for her home in Toorak, Victoria. The demand for this sort of lift technology became evident around 2005.
According to Bernard, data published in Elevatori magazine at this time showed that between 2000 and 2004, "the demand for traction-driven MRL elevators increased from 35 per cent to 68 per cent". Then, in November 2007, KONE, one of the most progressive multinational commercial lift companies, announced it would cease the production of hydraulic elevator systems. Traction-driven MRLs have been on the commercial Australian market for nearly 15 years now, but the Supermec at Lift Shop is the first to be developed specifically for the home. The Supermec in particular was designed in Italy, but its foreign origin isn't unusual. Our lift suppliers agree, perhaps unfortunately, that the best advances in lift technologies are generally found internationally. "Lift Shop management travel, invest and research extensively to stay abreast of the latest developments and ideas," says Bernard. Management at lift company Easy-Living was also busy gathering ideas as I was preparing for this article, travelling across to Augsburg, Germany, for Interlift, an international convention showcasing all the latest designs, finishings and mechanisms. "Now [Australian spring] is the time when a lot of Australian suppliers have gone overseas to source new products," confirmed Dijana Vodjovic from Easy-Living.
Being at the edge of product development is a critical part of what Australian lift companies — which are geographically very isolated — need to do to stay at the forefront of the market. In saying this, you might think that at the rate technology is developing these days, perhaps a lift developed in 2002 is somewhat less than cutting-edge? A bit of an amateur, this was certainly my question. In their defence, Bernard points out the safety precautions and the time it takes to ensure the best possible outcome in lift design. "Innovating correctly is really important … new technology is better technology, not risky technology," he says. "Due to safety requirements, checking and exhaustive testing, you might argue the lift is almost 'old' by the time it is installed." Australian lift companies have found a remarkable balance with their delivery of highquality lift products and high-quality service. Arguably, if you had to choose, the latter is the most important quality in your lift supplier. "Liftronic's niche is its ability to customdesign elevators to our clients' requirements," says Liftronic's Joanne. She conveys a clear respect for the diverse needs of Australian clients — whether they have families, whatever age they are, however small or large their living space, and whether a home elevator is a luxury item or a necessity. "One-off custom design is Liftronic's specialty with our dedicated in-house design and drafting team," she assures. Likewise, Bernard highlights Lift Shop's wide range of products as a means to finding the right fit for everyone. "We don't try to adapt a standard lift for you," he says. "The idea that one size fits all just doesn't work in this industry." It seems, therefore, that lift technology really is at a very exciting stage. A shift in global market concerns and environmental standards are shaping innovation for the future. And by maintaining these standards, the lift industry is really moving forward as it creates lift designs that will look after generations to come.