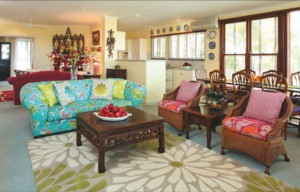 Along the river in Maryborough, Queensland, this home's lovely setting inspired its interior. Ten years earlier, the home had already been the subject of a major renovation, with the kitchen, bathrooms, windows, furnishings and finishes all new. One of Australia's leading interior designers, John Croft of John Croft Design, was assigned the job back then to fuse colour, pattern and unique furnishings into the home that were representative of the owner's personality. Even after a decade, the project remained a true success, with the owner still loving the style and feel of each and every room.
As a result of time, however, the interior was crying out for a fresh approach. Assisting John in his plan to recreate a new look was senior interior designer Kylie Mann. As detailed in the client brief, the owner wanted to keep most of the original settings, which meant John had to be creative in offering a fresh approach to the home's furnishings and accessories. The owner loved the home just the way it was but simply wanted it updated, not changed. In this instance, the wall colour and furniture remained the same but a new look was inspired with the introduction of different elements. Rather than starting from scratch with new furniture, the new design focused on re-decorating the home through the use of soft furnishings, recovering sofas and chairs, and adding cushions and rugs, artwork and accessories.
The interior is described as an eclectic mix of existing Asian-inspired and European-style furniture including rattan and wicker, timber and iron along with plump sofas and chairs. New fabrics feature a range of floral, geometric and plain designs across a full spectrum of colours. New rugs were custom designed and manufactured to complement each room's personality, from formal and classic to casual and relaxed. For the living room, contrasting colours and patterns work to complement each other. The two-toned custom-made rug in green was designed to look like the flowers are exploding and acts to offset the bright aqua lounge and two accompanying chairs in bright red, pink and orange. "These hot colours make a nice strong contrast," says John. Right next to this space is another living area, comprising a fireplace and warm red colours to create a more intimate atmosphere. In the dining room, the six aqua chairs have all been reupholstered as a way of updating the feel of this space, with new curtains adding to the effect and creating a lighter mood. The master bedroom in softest blue has floor-to-ceiling windows furnished with elegant white curtains; a floral bedspread and upholstered bedhead complete the scene. A second bedroom features pale lemon walls complemented by fresh white bedding, curtains and colourful scatter cushions. Outside, several seating areas in the pretty gardens have been furnished with light-coloured wicker furniture upholstered in navy-inspired blue and white stripes.
The "regatta feel" for the outdoor setting is complete with a stone table and bench seating for alfresco dining. Comprising three bedrooms and two bathrooms, the interior for the one-storey abode was heavily inspired by the property's idyllic location. For John, the huge corner windows with timber venetian blinds in the living room are the standout feature here as they look directly out to the river and nearby properties. The home is transformed through an explosion of bright, fresh colours and patterns, ultimately leading this interior into a more contemporary setting. A fresh approach was given to this Queensland riverside home, turning the interior from drab to fab instantly. "I'm always proud when owners ask us to come back — it is most satisfying knowing that most of our work comes from existing clients or referrals," adds John, "and after 10 years she still loves her home." ?