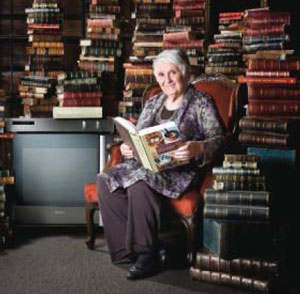 Issue 18.1
Between book signings, spending time with her first great-grandchild, her impressive workout schedule and teaming up with St George Appliances, Australian culinary icon Margaret Fulton has never been busierI
What sparked your love of cooking?
The sublime food that came out of my mother's kitchen and the joyous family meals that we shared while talking about our days — the good and the not so good. A good day was celebrated by all (my mother, father and five siblings) and a bad day soon faded. Our family celebrations, Christmas, New Year, christenings and birthdays all centred around food — the wonderful cakes, biscuits and meals prepared by country women.
What's the one item in your kitchen you can't live without and why?
My St George Appliances oven. It cooks the best pavlovas, delicate sponge cakes, robust fruit cakes and tender soufflés. It roasts chicken with crispy skin and moist flesh. I use it to make the best roast beef and lamb, and slow-cooked casseroles and pasta or vegetable dishes such as moussaka and lasagne. In my St George oven, my pastry is crisp and my roast potatoes are perfect. And, best of all, it's all Australian made.
What's your most interesting food experience?
Being responsible for 13 heads of Government, their wives and entourage, when attending the Commonwealth Heads of Government meeting in Sydney. They arrived by helicopter at a Bowral health resort after the Hilton bombing, representing diverse countries including India, Singapore, Ceylon, New Zealand, England — all with differing food practices. They loved Australia and my food — seafood, oysters, crayfish, barramundi, lamb, fresh fruit and vegetables. Local growers brought in their best and the food preparation was a pleasure.
How do you think the love affair Australians have with food and cooking has changed over time?
It's said that my first cookbook in 1968 (The Margaret Fulton Cookbook) was influential in changing the way Australians cooked. There's more to it than that, but the natural Australian way of wanting to "have a go" and our sense of adventure meant that my readers were open to accepting recipes from other countries. Now Australia is accepted as a food source. Its chefs and restaurants are world class. We used to be the beef-eating, tea-drinking nation — now we are truly global.
What's your favourite dish to cook and eat?
There is no one dish — I just love cooking and eating. I've travelled the world and met many of the best cooks, from family cooks to professional chefs. I find that the more varied foods you try and accept the more you want to go on searching.
What inspired your decision to become an ambassador for St George Appliances?
I know many people struggle with ovens, even expensive imported ones that are built and designed for European cooks. They look smart and are expensively promoted, but I cooked with St George 50 years ago at the Australian Gas Light company auditoriums, and all the cookery demonstrators and teachers favoured the St George. I felt Australian homemakers should be reminded and told what a great oven it is.
What does the future hold for Margaret Fulton?
I never dreamt that at 86 I'd be busier than ever, but I am! I'm supporting Woolworths' lovely fresh produce, I've just had a new book come out (Favourites) and my  republished 1968 classic, The Margaret Fulton Cookbook, is on the top 5 bestsellers list. This month I'm doing book signings in major outlets and meeting many wonderful home cooks. I'm also enjoying spending time with my first great-grandchild, Harry. The future is now and it couldn't get any better. I do yoga and weights three times a week just to make sure I am up to it!
Bacon & Cheese Quiche
Serves 4
1? cups (200g) plain flour
125g chilled unsalted butter, chopped
120g lean bacon rashers, rind removed
4 eggs
250g light cream cheese, at room temperature
½ cup (125ml) cream or milk
¼ cup chopped parsley or chervil
Pinch of grated nutmeg
1. To make pastry, process flour and butter in a food processor until mixture resembles fine breadcrumbs. Add 1 egg, 1 tbsp chilled water and sea salt and process until dough forms a ball around blade. Transfer to a lightly floured surface and press the dough into a disc. Wrap in plastic wrap and chill for 20 mins.
2. Roll pastry on a lightly floured surface between two sheets of baking paper to a 25cm round and about 3mm thick. Ease into a 23cm loose-based flan pan. Trim edges, prick base with a fork and chill for 20 mins.
3. Preheat oven to 190°C or 170°C fan. Line pastry with baking paper and fill with pastry weights or uncooked rice. Bake for 15 mins, remove paper and weights or rice and bake for another 12–15 mins until pastry is dry and golden.
4. Meanwhile, preheat teppanyaki plate or frying pan on high heat. Fry bacon rashers until browned and slightly crispy on edges. Set aside and cut into dice.
5. Using an electric mixer, beat cream cheese until smooth. Add remaining eggs one at a time, beating well after each addition. Stir in parsley or chervil and nutmeg and season to taste.
6. Scatter bacon over tart base and gently pour over egg mixture. Bake for 20–25 mins, until custard is set, risen and golden. Serve warm or at room temperature.
For more great recipes and handy cooking tips from Margaret Fulton, subscribe to the free St George Home Chef newsletter at www.sga.com.au.